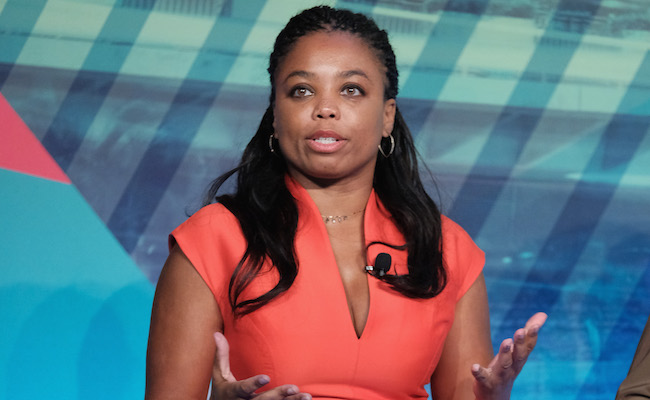 On Friday, word broke that Jemele Hill would be transitioning to a different role at ESPN, leaving her current perch as the co-anchor of SC6 with Michael and Jemele and landing in a new role with ESPN's The Undefeated vertical performing a number of duties. One of headlines from the story (later announced formally by ESPN) was that it was Hill who requested the change, which the official release confirmed, along with a few other clarifying statements.
"There is an old adage that says, the heart wants what it wants. I started at ESPN 11 years ago as a columnist and while I have worn many hats in the time since, my true love always has been writing, reporting and commentary. While I have grown in every way imaginable this last year on the 6 p.m. SportsCenter, deep down I knew it wasn't my calling. I approached (ESPN Executive Vice President, Content) Connor Schell recently and asked if they would consider re-thinking my role. And as has been the case throughout my 11 years at this company, ESPN graciously worked with me to determine the best way for me to continue to do meaningful work."
With that said, there were plenty of conspiracy theories flying around on social media concerning Hill's move, with some not-so-subtly surmising that ESPN actually pulled the plug on her previous role. In response, Hill hopped on Twitter and let the world know what was on her mind, including some thoughts that were quite direct in nature.
Hill injected repeated references to any conspiracy theories floating around, and she doubled down on the fact that this was a personal request and choice. She made sure to reference that the real story is not quite as "sexy" as the internet could make it out to be, but as part of the official announcement, Michael Smith will be sticking around on SportsCenter, and Hill will act in a role that is clearly more suited to her personal desires at this point in the calendar.
Because of Hill's public profile, she will certainly have a larger following (both in support and detraction) than a typical ESPN employee in a similar role, but as of Feb. 2, Hill won't be a SportsCenter anchor anymore, and she wanted to make sure there was no mystery behind the choice.