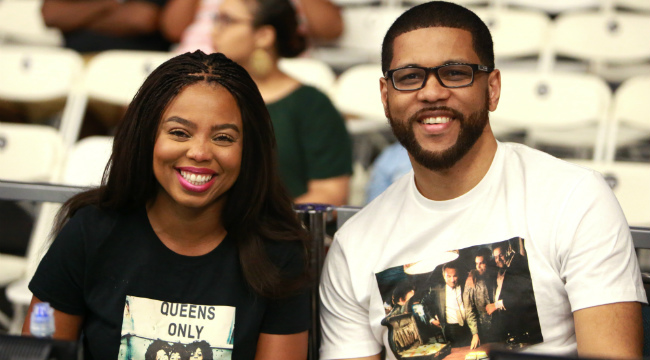 Jemele Hill's time as a co-host of on SportsCenter will come to an end next week. Hill, who has co-hosted ESPN's SC6 with Michael Smith since Feb. 6, 2017, will leave her spot behind the desk alongside Michael Smith to transition into a new role with the company, according to The Hollywood Reporter.
In her new role, Hill will have a more broad presence with the network, as she will write for its vertical The Undefeated and pursue other interests, some of which will put her back in front of a camera.

She will remain at ESPN, where she is one year into a lucrative four-year deal. She'll write for The Undefeated, the ESPN vertical dedicated to race, culture and sport. She'll also host issues-based town halls and she'll be free to do more field reporting and longer pieces, like her recent interview with Lynx forward Maya Moore. Hill also revealed recently that she has started a production company with friend and ESPN colleague Kelly Carter.
Additionally, the report indicates that this decision to move was made solely by Hill, and had nothing to do with the firestorm that centered around her earlier this year due to comments made about Donald Trump on Twitter and, eventually, suspended for comments about Cowboys owner Jerry Jones. Hill reportedly approached ESPN management towards the end of 2017 about making the move.
Hill's final day behind the desk will be Feb. 2, at which point Smith will remain on board as the show's sole host. For fans of the dynamic between the pair, there is some good news: His & Hers, the popular podcast the two hosted which eventually led to the creation of SC6, is expected to start back up sometime soon.