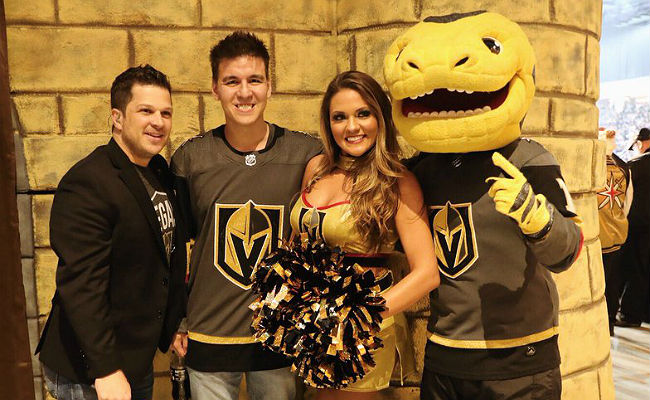 James Holzhauer is many things. A professional sports bettor, for starters. A father. And a bit of a softy for symbolism. Oh, he's also the most dominant Jeopardy! player in the 35-year history of the show.
That last one is definitely the most noteworthy, but as the winner of a dozen games and more than $800,000 in American currency continues to gain attention for his domination of the Jeopardy! boards, we're starting to learn more and more about him.
The latest tidbit is that he's actually a huge Las Vegas Golden Knights fan. Holzhauer was on hand Sunday as the Knights tried to take down the San Jose Sharks in Game 6 of the Stanley Cup Playoffs' first round. Vegas, a second-year franchise that made an improbable run to the Cup Finals last year, has an even stronger squad this year and is looking for a similar run. Up 3-2 in the series, they pulled out all the stops for what will be their final home game of the series: they brought out Holzhauer.

Holzhauer even got to sound the rally siren on Sunday. He later talked to a local Vegas TV station and talked about his Knights fandom.
"I grew up outside Chicago so I rooted for the Blackhawks," said Holzhauer, who now lives in Vegas. "But when Vegas was awarded a franchise I was super excited, so I've been a fan since day one."
In the interview, where Holzhauer was called the 'Jeopardy! kingpin,' he also revealed an updated analogy about his risk-taking strategy. Holzhauer said what makes him different is his "willingness to gamble big and not have a mental block about it."
"There was a time where I bet $8,400 on a Daily Double and I lost and I just picked myself back up because I knew there was still a game to be played," Holzhauer said. "And I came back and won a big pot on that episode."
That episode saw him indeed win a big amount despite the early setback, and he's cruised ever since. It seems clear that he's not going to spoil what happens, but he's definitely making the most of his run in Vegas. Unfortunately for him, the Knights didn't pull it out with him in attendance, setting up a Game 7 on Tuesday night.