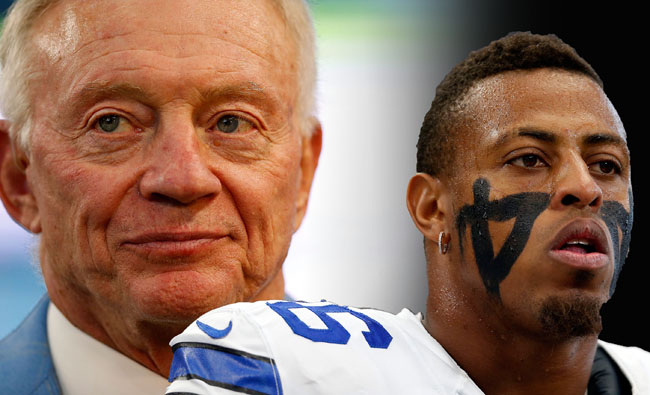 A few weeks back, all seem fine and well in Jerryland. The Dallas Cowboys were feeling pretty good about Greg Hardy, with Jerry Jones going out and saying that they supported Hardy's second chance following the release of photos that show the alleged damage he caused to now ex-girlfriend Nicole Holder. With folks calling for the Cowboys to rethink their decision, it seemed like they were content with what Hardy could deliver on the field, even kicking around the idea of a contract extension. And then this happened:
Not the first time that Hardy has been reported to have missed a meeting or practice. But then a clarification came through, noting that Hardy had missed the meeting and had been fined.
These events and the previous outbursts have now morphed Stephen Jones' initial comments about "absolutely" wanting to give Greg Hardy a contract extension into this confused, backtracking comment from Tuesday:
"Greg knows what's expected and nobody is more aware of the scrutiny and nobody is more aware, now ever more so, of what we expect of him," Jones said, via Clarence Hill of the Fort Worth Star-Telegram. "The good news is we go forward. We see if we get what's expected of him, which I fully anticipate you would get. But we see how and what's expected of him and we go from there.

"We don't, and you know this, just the nature of this one, we don't as a practice, discuss detail of extending or not extending. I'll give an indication, but that's about it. So we'll leave it for that. I have no reason to think that Greg won't do what's expected of him throughout the year."
It helps that the team hasn't won a game since Hardy joined the team following his suspension. As CBS Sports notes, the baggage that comes with Hardy is hefty. Not many teams would be willing to carry that without some exceptional playing on the field — the kind that translates into wins for the entire team. Yes, it is insanity to put losses all on one player's shoulders, but it wouldn't be the first time. Tony Romo knows the feeling. Then again, this is what happens to players who possibly aren't considered at Hardy's level:
If the Cowboys are truly softening on Hardy, what would it take to turn things around for the player? And on the other hand, can he turn it around with such hefty scrutiny being levied his way?
(Via CBS Sports)