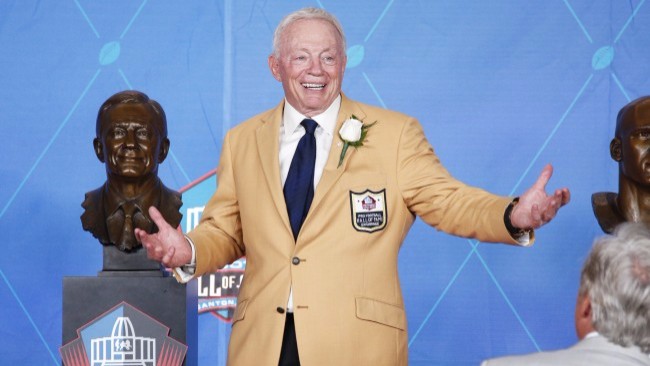 NFL commissioner Roger Goodell makes more money than most anyone in the world of sports on an annual basis and most of the league's owners have been pretty happy to let him make that much as the NFL has reached record levels of prosperity on Goodell's watch.
However, the tide may be turning against Goodell and his monstrous salary (he's made over $200 million since 2006), and the charge is reportedly being led by Dallas Cowboys owner Jerry Jones. According to ESPN's Adam Schefter and Chris Mortensen, Jones has interjected himself into the league's competition committee as an "unofficial seventh member" and his presence has prevented the commissioner from receiving an offer on a contract extension, as has been anticipated for weeks to be coming.
Jones reportedly is upset with how much money Goodell makes and feels like his next contract should be dramatically restructured to keep him from having years like 2015 when he made $44 million thanks to a new broadcast deal for the league. Jones has gained the support of enough owners that a discussion is being had about how to move forward with Goodell's extension.

The relationship between Jones and Goodell has deteriorated significantly in recent years and has only gotten worse over the past few months during the ongoing battle over Ezekiel Elliott's suspension. However, for now, Jones isn't angling for someone other than Goodell to take over the league, but it's reportedly a possibility that Goodell would say no should a restructured contract not satisfy his demands.
Jones is now being singled out by some owners and league executives as the reason Goodell does not have the contract extension that many expected to be in place before this season kicked off, per sources. Goodell's current deal expires in 2019.

The increasingly edgy relationship between Jones and Goodell has sharpened to the point where Goodell's long-term future could be in question, according to league sources.

…

There is also the question of whether Goodell will even accept the new terms of an extension, if offered, according to an owner who supports the commissioner. Goodell's next contract, if it gets done, is expected to be performance-based, and would include incentives that would enable him to earn close to what he has in the past, sources said.
Goodell being extended through 2024 — and thus, through the eventual 2021 labor stoppage and dispute — still remains the most likely option. However, with Jones leading efforts for reducing his salary, it's no longer the sure thing it appeared to be weeks ago. As one of ESPN's sources succinctly put it, everything is about the money.
"This is about money and a guy [Goodell] making way too much money on a grossly stupid contract for the job."
An agreement on an extension proposal from the owners' side could come as soon as Wednesday when the competition committee (plus Jones) holds a conference call. What that new proposal looks like and how much push back they will receive from Goodell remains to be seen.