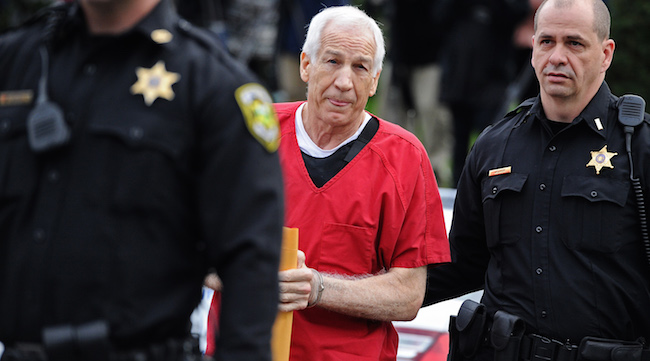 Some big new developments have brought the Jerry Sandusky sex abuse scandal at Penn State back into the headlines this week. The shocking new information, which comes from court documents and sources within the legal proceedings, alleges that as many as six PSU football coaches had direct knowledge about Sandusky, an assistant coach from 1969-1999, as a child sex predator.
According to sources at NBC News, at least a half dozen coaches witnessed "inappropriate behavior" between Sandusky and young boys dating all the way back to the 1970s, though it's unknown if any of them reported the sexual misconduct to officials at Penn State.
Sources told NBC News that one former Penn State assistant coach witnessed an incident in the late 1970s. Three other coaches — who have gone on to work in the NFL and at Division I colleges — allegedly saw inappropriate conduct between Sandusky and boys in the early and mid-1990s.

…

Bolstering the sources' account, Sandusky's adopted son, Matt, who says he also was molested, told NBC News that investigators informed him a football program employee witnessed his father performing a sex act on him in a locker room in the early 1990s.
According to other court documents made public earlier this week, legendary head coach Joe Paterno — under whom Sandusky served for his entire 30 year career at Penn State — was made aware of Sandusky's misconduct by a child he allegedly molested in 1976. That's 25 years prior to when Paterno claimed he first heard about Sandusky's illicit behavior.
Paterno was fired in 2011 shortly after Sandusky was arrested and charged with 52 counts of sexual abuse against young boys. Information obtained in an investigation led officials to believe that Paterno may have played a role in covering up the scandal at the university. He was never charged and died just a few months after his firing.
Sandusky, 72, is currently serving 30 to 60 years in prison after being convicted of molesting 10 boys, but has recently petitioned for a new trial.
(Via NBC News)