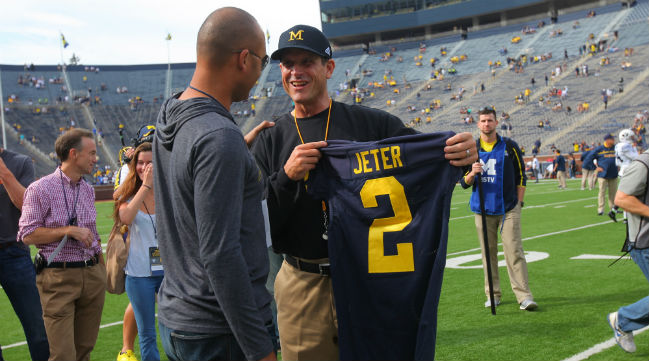 Despite never going to school there, former New York Yankees shortstop Derek Jeter is a well-documented fan of the Michigan Wolverines. Jeter signed a letter of intent to play baseball in Ann Arbor before deciding to go right to the majors out of high school.
Still, Jeter is one of the most famous Michigan Men who never was a Wolverine. According to Jeter, he fell in love with the school on a recruiting trip and he still loves it to this day. He even received a Michigan baseball jersey before a Yankees game in Detroit during his final season, and today, Wolverines coach Jim Harbaugh gave Jeter a personalized Michigan football jersey before the Wolverines took on BYU.
So far, Jeter's been treated to an awesome game. The Wolverines got this incredible one-handed catch of the week nominee that Amara Darboh somehow managed to haul in over BYU's Micah Hannemann. That wasn't the only highlight Jeter's been treated to this afternoon, as UM's De'Veon Smith somehow managed to score a touchdown despite being stuck in the middle of a gigantic pile of humans and being seemingly wrapped up by Cougars defensive back Michael Davis.
Yeah, Jeets, indeed.