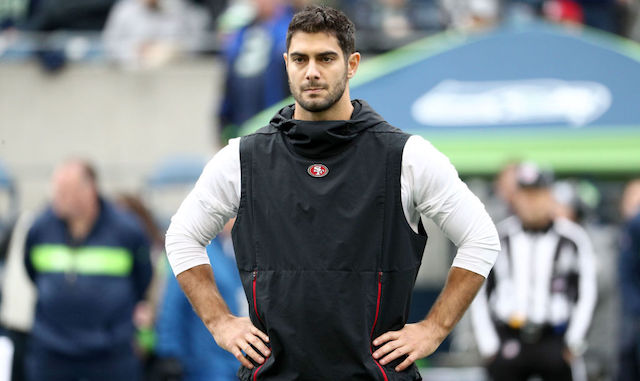 It's been nearly eight months since Jimmy Garoppolo went down in a crumpled heap after scrambling near the sidelines in a September game against the Kansas City Chiefs last season, having torn his ACL. He'd played just three games as a starter in his first full season under center for the San Francisco 49ers, and a season full of hope and promise in the Bay Area came crashing to a sudden halt.
Garoppolo has laid low since then, rehabbing out of sight on his own and at the 49ers practice facility, before reappearing outfitted in a striped pink blazer alongside Tom Brady at the Kentucky Derby. Garoppolo, who hopes to be good to go by the time 49ers training camp opens in July, spoke to UPROXX through his partnership with SkillsUSA about the difficulties of rehab, if he has something to prove and, of course, Tom Brady's enormous derby hat.
Let's start with the most pressing question first: Tom Brady's Kentucky Derby hat, cool or nah?
I think whenever you can put a horse with "6x" on its side, I think it'll make any hat look pretty cool. That was pretty unique. There's not many people that can do that.

How is the knee feeling, health-wise?
Rehab has been coming along really well. It's small victories, as I like to call them. I've been progressing and every day has been getting better and better. After those first couple months of rehab, you start turning into yourself again. Throwing the ball, running, cutting, all that good stuff. It's been a long process, but it's going in the right direction. I'm excited to get back on the field.
You've talked about how difficult those first few months of rehab were for you. Did you have people you leaned on to help you get through it?
Oh absolutely. (My dad) is one of them right here. My parents, my brothers, right after surgery they were all there for me, helping me out. Something as simple as getting a meal. You really can't walk or carry a plate while you're on crutches. Having those guys there for me, and little things like that, supporting me, talking to me about whatever. Family is always there for you.
Do you expect to be ready for training camp?
I sure hope so. OTAs start in a couple weeks here. The trainers and the coaches, they're putting together a game plan of how we want to attack it. Being a quarterback is obviously a little different than other positions. You're not doing as much running and cutting. So hopefully the sooner the better. I'll be out there. I'm excited about it.
You've now had a couple of significant injuries, with the ACL last year and the shoulder injury in New England. Do you feel like you have to prove that you can stay healthy for a full season?
No, not at all. Pressure is a great opportunity. I put more pressure on myself than anyone ever could. I just gotta go out there, play football and enjoy what I do. Get my teammates ready to go and be the best teammate I can be.
And I'm sure the drafting of Nick Bosa has you even more ready to get back out there.
No doubt. He's definitely going to make my life a lot easier. I'm glad he's on our side.
Finally, tell me a little bit about the work you and your father, Tony, are doing with Klein Tools and SkillsUSA to promote awareness of the need for more skilled laborers?
It's the first time they're having a national signing day for SkillsUSA. It's a great way to get the word out that there's a need for skilled trades people. It's a great opportunity for these kids, and for the employers to recognize that there are people that are ready to get into the field.
It's a really cool opportunity for these kids. When we first got here, they showed us the auditorium that they're going to do the signing in. Talk about an unbelievable set up. I was telling people I wish I had this setup for my signing day.