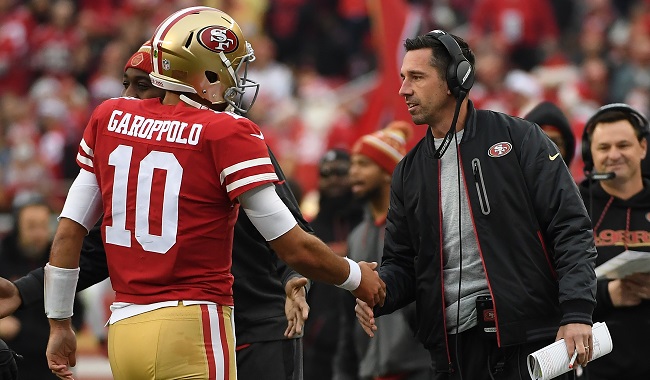 Jimmy Garoppolo led the San Francisco 49ers to five consecutive victories to end the 2017 NFL season. During that stretch, the former New England Patriots backup played quite well. The combination of his play in the absence of Tom Brady and his flourish in San Francisco was apparently enough to make Garoppolo the highest-paid player in the league.
Additionally, Adam Schefter of ESPN reported the two sides are close to a deal but it's not quite done yet.

While it has to be noted that new quarterback deals seem to always be approaching "highest-paid player in the league" status, this one jumps off the page given the lack of playing time for Garoppolo. At the age of 26, there is plenty of reason to believe that he has high upside and this year's production (1,560 yards, seven touchdowns in five starts) does paint a rosy picture.
Still, Garoppolo has only seven career NFL starts for the 49ers to evaluate and this is certainly an all-in move by John Lynch and San Francisco's front office at this early stage. The combination of Garoppolo and head coach Kyle Shanahan looks to be a potentially devastating one and, if everything comes to fruition, the 49ers will have no issue paying top dollar for their quarterback's services.
If things do not work out perfectly, though, this is the type of move that could be heavily criticized and, if it wasn't already quite clear, the fate of the 49ers for the next few years rests on the shoulders of Jimmy Garoppolo.