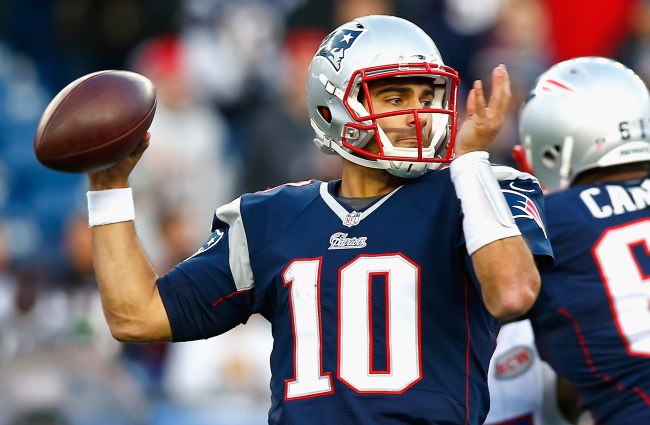 Tom Brady has finally seen justice for his reign of ball-deflating and investigation-ignoring. He'll do hard time for his deeds, and by hard time, we mean he doesn't get to cover himself in glory and uphold the Patriot Way for four games. So who will take up this most hallowed post while Brady yells at the television, provided his appeal fails? Why, it's Jimmy Garoppolo, of course!
We can leave it to the goofballs over at KSK to debate Garoppolo's (for pronunciation, think Janeane Garofalo) relative handsomeness vs. Tom Brady. While we're here, let's focus on his on-field potential.
It raised some eyebrows last year when Bill Belichick selected Garoppolo (now I can't stop thinking about Janeane Garofalo) near the end of the second round of the NFL Draft, the highest the Patriots had drafted a quarterback since Drew Bledsoe. He was the fifth quarterback to be selected, and all the other quarterbacks ahead of him (Blake Bortles, Johnny Manziel, Teddy Bridgewater and Derek Carr) have started at least one game. That makes sense, since Garoppolo came out of Eastern Illinois, an FCS school, and was considered more of a developmental prospect due to the lack of high-level competition or a pro-style offense.
Eastern Illinois is also Tony Romo's alma mater, don't you know, and Garoppolo broke a lot of Romo's records during his time as a three-plus year starter. You'll probably be hearing about this connection a few times between now and the end of Brady's suspension, if I had to guess. So let's take a look at the tape (mute the video if you don't want KG/Colin Kaepernick commercial flashbacks):
The first thing that jumps out at me (and I'm no scout) is his release. It's a quick one, and that's good, but it's also got a little quirk. He keeps his shoulders very open to the target, giving the impression that he's throwing across his body. Compare that to the man whose shoes he'll fill:
See how Brady keeps his front shoulder closed and brings his throwing shoulder much more forward in his release? That's the prototypical motion that coaches love. But you know who's made a career out of an open-shouldered release with greater emphasis on a quick wrist flick? Tony Romo!
Romo has developed a better follow-through than Garoppolo displayed in college, but he's had years to hone his motion and improve where Garoppolo needs to improve. NFL.com's draft profile of Jimmy listed under his weaknesses, "Does not rip the deep out or drive the ball with high RPMs. Undershoots and often hangs the deep ball. Makes receivers work for the ball downfield and deep accuracy could stand to improve." That stems from his throwing motion, and he'll either have to compensate or change his mechanics. Garoppolo's not exactly a mobile quarterback — his 40 time was just about the same as Jameis Winston — but the Patriots are used to their QB being a statue in the pocket.
Even if Brady can't get his suspension reduced, Garoppolo has a much better pedigree than Matt Cassel or even Ryan Mallett. He's already got a year of learning the system under his belt, and he threw a couple of passes in blowouts last season. When Brady looked old and busted during the Pats' 2-2 start last season, there were a few nutbars calling for Garoppolo to start. That doesn't mean much, but it speaks to the fact that Jimmy isn't a scrub (or at least not yet).
It just figures that Bill Belichick had the Patriots set up perfectly to withstand a four-game absence from their star. They have a young quarterback with lots of potential, the tools to fit their system and a year of seasoning. If he can't hack it, no big deal. The Patriots should be able to get at least one win out of their first four games regardless (*cough* Jaguars *cough*), and then the cavalry arrives. If Garoppolo does well, then Belichick gets to put a talented backup back in his pocket, and wait for the offseason to make the tough choice between trading him (because you know teams will want him) and keeping him for when Brady retires – or is banned for life because he can't stop deflating his balls.