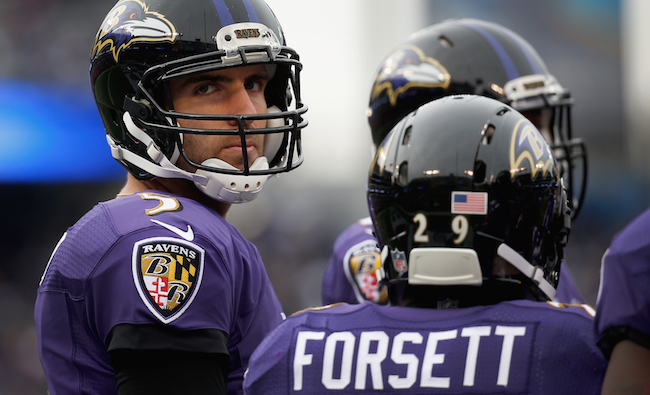 The Baltimore Ravens have had to overcome some serious subtractions to their lineup this season, but they're facing their toughest challenge yet with the loss of Joe Flacco. Despite never leaving Sunday's game against the St. Louis Rams, it was announced following Baltimore's 16-13 victory that Flacco suffered a torn ACL and would miss the remainder of the season.
The injury looked to be suffered on this play during the game's final drive:
Flacco took contact after a lineman rolled onto his leg, causing the knee injury. However, he was hopping around and putting weight on the leg after the play, which is rarely seen with ACL injuries, so he stayed in the game. Maybe he has elite pain tolerance? Either way, he spent the rest of the drive handing off the ball until Justin Tucker kicked home the game-winning field goal.
The veteran quarterback is just the latest in a long list of Ravens who have suffered season-ending injuries this year, one that includes Steve Smith Sr., Terrell Suggs and Justin Forsett – who broke his arm in gruesome fashion earlier on Sunday.
Former Texans and Raiders quarterback Matt Schaub is currently in line to replace Flacco behind center for Baltimore.