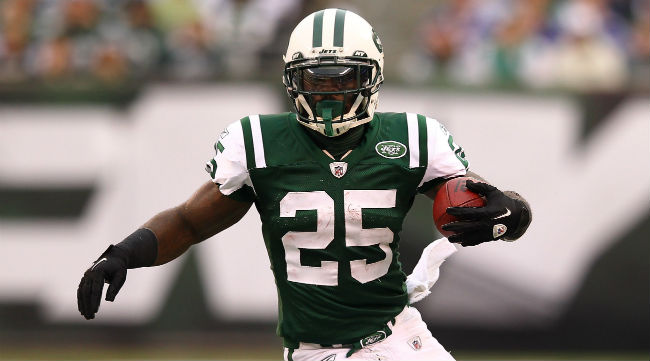 Former NFL running back Joe McKnight passed away on Thursday, according to NOLA.com. McKnight was 28 years old. NOLA.com reports that was shot and killed.
A witness, who declined to give her name, said she was leaving a store in the area when she saw a man at the intersection yelling at another man, who was trying to apologize. The man who was yelling shot the other man more than once, she said.

She said the shooter shot the man, stood over him and said "I told you don't you f— with me." Then he fired again, she said.
Obviously, when a death like this happens, those in the football community come together to mourn the loss of a member of their family. That happened with McKnight, as football players, coaches, and teams offered their condolences to his loved ones on social media.
Cromartie was one of many people in the Jets' organization to remember McKnight. There were also stories about the caliber of person McKnight was and how beloved he was within the organization.
While he may be well-known for being a Jet, McKnight's high school career was legendary. He was the No. 1 recruit in America in the class of 2007, and those from his hometown of New Orleans and the surrounding area remembered a local legend.
https://twitter.com/Coach_EdOrgeron/status/804464800310972417
From there, McKnight went to USC. He accrued 2,213 rushing yards, 542 receiving yards, 304 return yards, and 15 touchdowns in three years before declaring for the 2010 NFL Draft. Like the Jets, the USC family – even those who are no longer in Los Angeles – mourned the loss of their former back.
https://twitter.com/USCCoachHelton/status/804455425131171840
In all, McKnight's pro career took him from the Jets to the Kansas City Chiefs to a stint in the Canadian Football League, where he played for the Edmonton Eskimos and Saskatchewan Roughriders in 2016. All three of the organizations that he played for after his stint in New York paid tribute to McKnight.
The Roughriders – the final team he played for – released a statement, which included quotes from two team executives.
"We are shocked to hear the news of Joe's sudden passing," stated Riders Vice President of Football Operations, General Manager and Head Coach, Chris Jones. "We send our deepest sympathies to Joe's family, friends, and all those impacted by this tragedy."

"We are saddened to hear of the tragic loss of Joe McKnight," said Riders President & CEO, Craig Reynolds. "Losing a member of our Rider family this way is an unthinkable occurrence. Our thoughts and prayers are with Joe's family, teammates and coaches."
The man who shot McKnight is reportedly in custody and being questioned, according to NOLA.com.