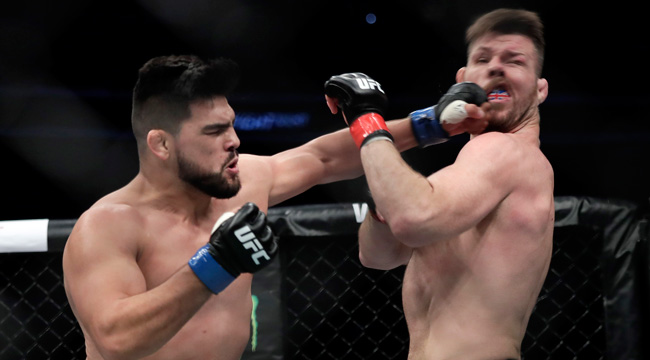 Fans of MMA were excited when the UFC announced that Michael Bisping would be stepping up to headline UFC Shanghai a mere three weeks after his loss to Georges St-Pierre at UFC 217. With Anderson Silva off following a drug test failure, the promotion needed a big name to anchor their big China card. Bisping was looking to get the bad taste out of his mouth from losing his middleweight title. One more big paycheck leading up to his impending retirement probably didn't hurt either. It was win, win, win … or so it seemed leading up to the event.
And then the fight went down. Kelvin Gastelum was the other man in the Octagon, and he lived up to his dangerous reputation by knocking Bisping out cold halfway through the first round. It was a hard shot that ragdolled the British great, and immediately afterwards the world kind of realized that putting him back in the cage so soon was kind of messed up. Especially given the heightened focus being given to concussions and the traumatic brain injuries that come with repeated damage over short periods of time.
UFC commentator Joe Rogan expressed his displeasure with the situation on his new MMA podcast.
"I don't think you should be allowed to fight three weeks after a brutal fight like Michael Bisping had with GSP," Rogan said. "He got rocked, he got choked unconscious, and then three weeks later he's fighting a really dangerous up and comer in Kelvin Gastelum? Kelvin is a beast! He's got nasty boxing and that's what he showed in that fight. He hit him with a beautiful straight jab and then a right hand behind it. That kid is just on fire. He's on another level right now."
"You really have to protect the fighters from themselves. You really can't be letting a guy fight three weeks after a brutal fight like that. It just does not make sense. I don't think it's smart. I understand the UFC needed someone to fill in on short notice because Anderson Silva tested positive for performance enhancing drugs and they did not want to lose the Shanghai main event. It turns into an even bigger fight when you've got the former middleweight champion right off his loss. Three weeks later fight again? It's just not smart."