ATLANTA – Joey Bosa just landed, and he's already a few days behind some of his peers on media appearances. It's Friday before the Super Bowl, and he hasn't done one radio row interview or been in one attempted viral video or held up any products. He's not been asked "Andre 3000 or Big Boi?" He hasn't even had time to consider changing into anything with an appropriate logo, opting instead for a gray long-sleeved shirt that is as safe as it gets in the game of Minesweeper that is this week.
He's ready to catch up as quickly as he can, and for anyone who's seen Bosa coming off the edge, it won't take him long. Bosa was in a bit of football purgatory for much of this season, as a foot injury kept him out for preseason and later (after re-injuring it) forced him to miss the team's first nine games. He returned in November, and managed 5.5 sacks as the Chargers made their run to the Divisional Round. It was quite a turnaround for a team that's seen a lot of change since Bosa's holdout after being selected No. 3 in the 2016 NFL Draft.
The Chargers upped their win total from 5-11 in Bosa's first season to 9-7 in 2017, storming to a 12-4 record in Los Angeles despite a number of injuries threatening their start heading into the year. The future is bright with the Chargers, even if they're still not in a permanent home following their move from San Diego. For many of the Chargers players, including Bosa, the transition hasn't always been easy, but as with most things it takes time to get comfortable and find a routine.
For Joey, that means learning how often to train, making a new live in Tustin (after starting out in Irvine), and continuing to find time for himself. The possibility for generational burnout is real, even among NFL players, and the sooner guys can identify that, the better.
Uproxx was able to speak to Bosa from the VIP suite across from the BAPE x adidas pop-up shop about what he learned from a taxing season, how he feels heading into Year 4 of his NFL career, and his relationship to brother Nick – who should be a top pick in this year's draft.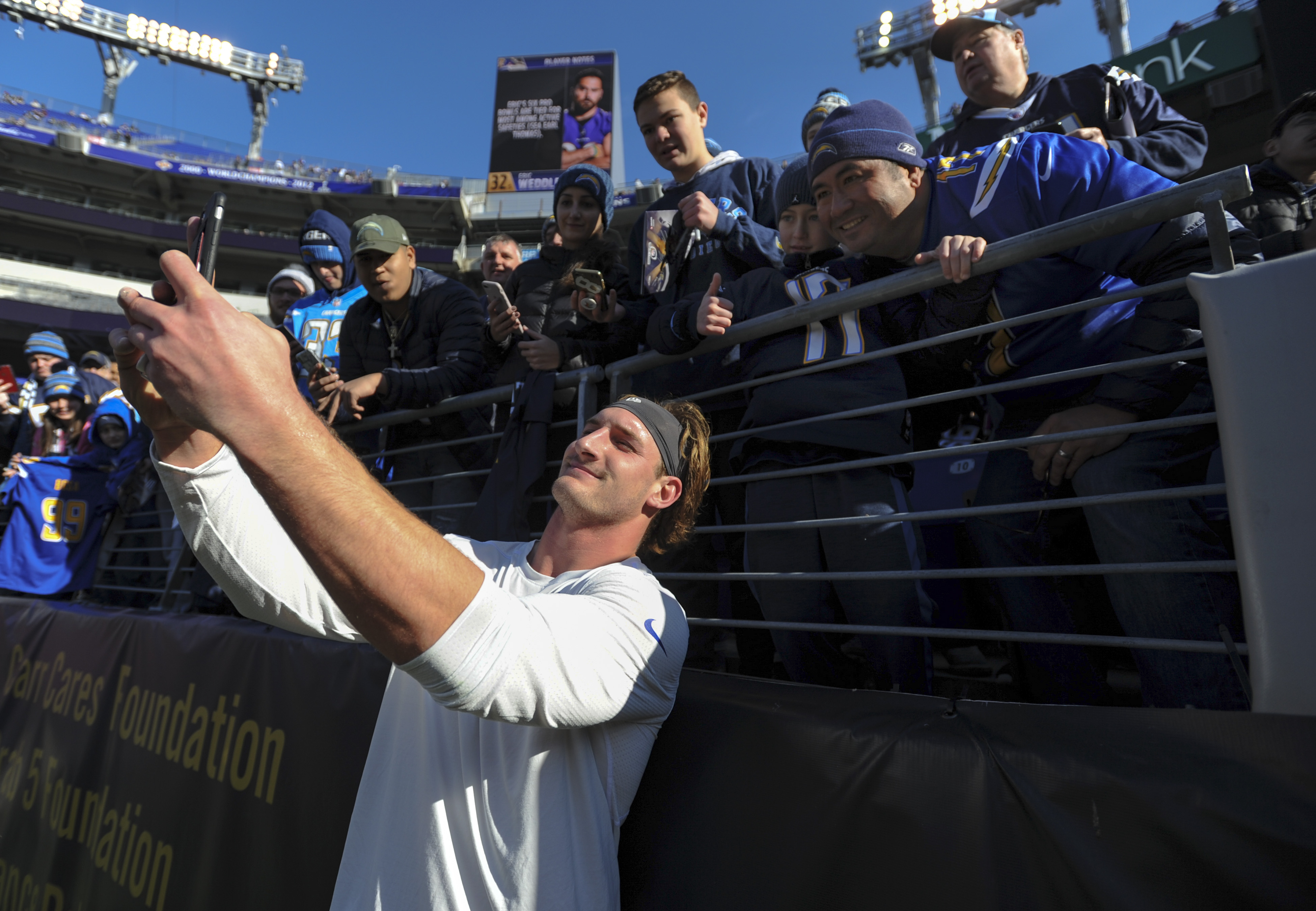 UPROXX: You're just getting in, huh? You missed a lot of the grind that everybody else has had so far.
Joey Bosa: Yeah I got a busy schedule though, so, nice. Got some time off but then I've got another event tonight, but, it's hardly work. Hard to complain, getting paid to go show your face. When I was a rookie it was more of a problem for me, I just didn't wanna leave; all I wanted to do was train, I didn't wanna take any time off, but now it's… Yeah, I'm just enjoying this.
Some guys are wired for football, right? And if you're not getting better you're falling behind, the problem is that the off-field stuff now has gotten to be so much of it.
It gets to a point where you can overtrain. If you're working yourself all year, football season's a long season, and it's not just the season. All off-season leading up to it, you're working out. I mean, I have a few vacations here and there, I'll take a weekend at the Bahamas or something, but you're training for however many months, and then you get straight into football and get camp, pre-season, season. It's important to let your body fully recover, and before, I felt that was taking 4 days off. Now it's a month or five weeks, fully let your body and your mind. You gotta take a mental break from this all, it's stressful.
That's not hammered in you though, you know? In high school and college, everything is –
Yeah, work, work, work.
You gotta do everything.
You know I think, I dunno, at this point it's a little different. You kinda hear what's expected.
You know what you're capable of.
I think in high school everybody's striving to get to that point, but I would agree if they had a better understanding of rest it probably could help, but they're also not playing an NFL season.
That's true, it's different.
Frigging, massive 300-pound guys running into you every day.
What was your biggest take away from this year?
I mean, my injury helped put things into perspective, and appreciate practice, and being out there. I mean during camp I'm like, "Ah, I can't wait for this camp to be over." Then when I get hurt I'm like, "Damn I wish I was in camp." So, it's funny how it goes like that but you get perspective, and it sucks how many weekends I'm having to watch, but for a little while I was in a pretty unhappy place for a couple of weeks, and then I turned it to, "Why? There's nothing you can do about it now." It's about looking forward and then getting better from this point.
Once I kinda got over this hill, when my foot started improving a bit, my mood and everything went up from there, and then the season, obviously, was great, I really never truly never felt like myself out there. Missing that time and, obviously, not being able to do half of my workouts when it came to my foot, and then I dislocated my finger, blah blah blah, excuses and whatever.
From where we've come three years ago, it was unbelievable, I mean 5-11, I couldn't ask to be in a better spot. If you would've said 12-4 and playoffs [before the season] I would've been, "Alright, I'll take that."


Unfortunately, expectations are not static, they're fluid.
I think the goal is always Super Bowl, for every team, but you've gotta be realistic about things, look at it, alright we went 5-11, but the year before, when I wasn't there, 4-12. Then we went 9-7, and then we went 12-4, so we're trending in the right direction. I think we're getting the right people on the team, the right coaches. It sucks the week after, or the week or so after you lose, but when you reflect on the season, it's great.
I talked to Melvin Gordon for a while, back in December, about L.A. We discussed home. It's so different, I'm from Cleveland, I lived in North Carolina for a long time, and it's a very different place.
Do you like it?
I think I do, you know? It's hard, they say if you make it one year you can make it five, in L.A., and it's been one year, so… You've gotta find your spots, you gotta find things that are at your speed, it's a different world out there.
Yeah, I found my perfect speed, I live in Tustin, and it's families, and I don't think I've had one conversation walking outside my house, maybe, "Hey, how're you doing?" Once in a while. It's a beautiful area. Clean, well kept, everything I need around, that's kinda what I'm looking for.
I also have the option if I want to drive an hour to go to L.A. or whatever, and that's kinda what I liked about living in Fort Lauderdale, Florida. It's low-key, it's much more laid back, but if I wanted to I could drive to Miami.
You have your spot, you have your little circle, but it's always nice to know that stuff's there. There's something powerful about being able to turn down a plan, sometimes if you don't have anything else. If you're too remote, you don't have anything and you've gotta figure it out.
Yeah, I usually stay away from going out near home, I just stick to vacations.


How do you share your insight and perspective about injuries with your brother? Help him understand that it is a marathon. One injury doesn't define you. The comeback is just as important as getting back on the field.
He's already looking great, at this point he's about fully recovered, he's obviously still dealing with stuff here and there, but, honestly, I don't think there's anything I could tell my brother that he doesn't already know. He's like me, if he had another me to tell him what the hell to do. I honestly try to give him advice with everything that's going on, I've gotta pick and choose what I say, so he really takes it seriously.
I'm not always giving advice, so he knows if I'm going to say something …
That this matters.
Yeah, it matters. Dealing with the media, and him leaving Ohio State and everything. I think, I talked to him about that and I went through similar things with my holdout, and I mean, "I hope your parents die, I hope you get cancer." This, that, and to me, it's funny. It's whatever, I mean it's … you try to say, "Doesn't matter, it's funny." And then you see it and it still, it bugs you, it bothers you.
So, that's why I've separated myself from social media. But, just talking to him about once you're there, once you're playing your ball that I know you will, everything will be okay, and he already knows that. He watches and he learns really well so he's been keeping a close eye.
Who is that role for you, in your life when you're looking to those things?
When it came to football I never really had somebody specific. But just life, and work ethic, my dad came from nothing, lived in Keene, New Hampshire. His summers were chopping down trees for firewood, and a little camping, so, if he did what he did and turned himself into an NFL player, with a great family, that's always kinda motivated me.
With all the tools I have around me I should be able to do that, and much more.
Uproxx was hosted by adidas for this story. You can find out more about our policy on press trips/hostings here.