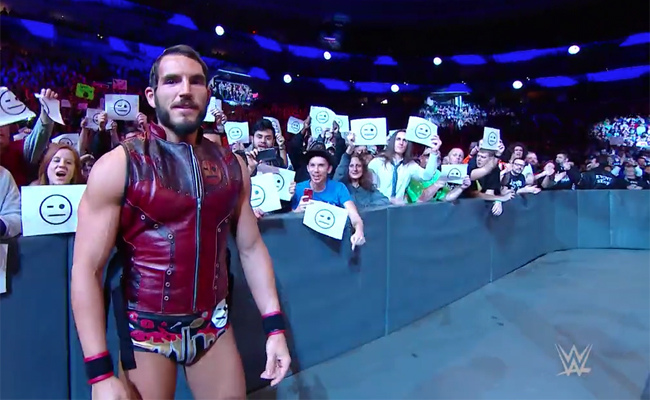 Everyone who watched NXT TakeOver: Philadelphia agreed that the NXT Championship match between reigning champ Andrade "Cien" Almas and underdog challenger Johnny Gargano was not just the match of the night, but an early match of the year contender.
Uproxx's own Scott Heisel called it "easily one of the best matches in NXT history," and I'm inclined to agree. In fact, it seems the only person who wasn't blown away by the match is Johnny Gargano himself.
In a recent appearance on Edge and Christian's Pod of Awesomeness, the always-humble Johnny Wrestling declined to speak too highly of his own match. When Edge talked about how great it was, Johnny was grateful but didn't entirely agree:
"Well, thank you. I don't know how to react to that, because I'm like, okay. You know how it is, though. I mean, you guys know how it is. Like, you have great matches, and everyone else loves them, and everyone's going crazy over them. But for you, it's just like, okay. I think I did okay. I think it was fine. Like, I'm my worst critic, and I hate all my matches, but I'm glad I guess some people like it."
Later, he talked at length about the crowd's positive reaction to the match, about which he was similarly reserved.
"You know that feeling where, okay, this is going well. Like, TakeOvers are very special, the atmospheres for TakeOver are always normally pretty crazy. So, in that moment, it was like, okay, we pretty much have them where we want them, the crowd's pretty invested. But, at no point did it feel like, oh, this is like match of the year we're having right now. Like, at no point did I feel that way.

"Just because I think, I don't know if it's the same for you guys, but I've done this for so long, and I've had so many matches where it's just like, especially on the indies for 10 years, where I've gone out there for over 30 minutes and have done crazy things and have done ridiculous stuff and I've had crowds going nuts and things like that; where it's just like, you kind of expect it of yourself. Like, if it's not there, you're kinda like, 'What's wrong with me?'"
It's obvious that Johnny Gargano loves what he's doing and is happy to be where he is. That he holds himself to a high standard and never seems to be fully satisfied with his own work is simply a part of why he excels in his chosen field.