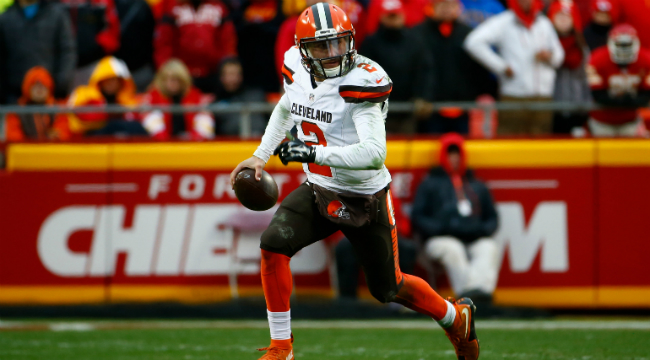 Jilted by Brock Osweiler and left with not much beyond Mark Sanchez at quarterback, the Denver Broncos still very much are in need of help at signal caller. They're clearly interested in Colin Kaepernick, but they're playing hardball and Kaep justifiably doesn't want to take a massive pay cut. While they wait for that to play out, they're not leaving any stone unturned — and one of those stones apparently had Johnny Manziel under it.
ESPN's Adam Schefter is reporting that Broncos head coach Gary Kubiak met with Manziel, who is still under investigation for a domestic violence incident, about "a potential fit for the Broncos' roster down the line." That sort of language implies that he might not be more than an invitee to training camp, but that's where the former first round pick's stock is at right now.
If Manziel really ends up in Denver, give Von Miller credit for his prescience. In an interview with GQ back in March, the Broncos star defender hinted that Manziel might fit right in with the Super Bowl champs:
"Not only will he be back in the league—of course I'm biased—I still feel like he has a lot of game left in him. I feel like the world hasn't even seen him get down yet. Some of the stuff he was doing in college, he going to do the exact same thing in the National Football League. I feel like—you know you never want to blame a team—I don't think he had enough support around him. Who knows? You might see Johnny Manziel in Denver."
Until anything more develops, just occupy yourself by preparing your jokes about the hard-partying Johnny Football playing in a state where marijuana is legal.
(Via ESPN)