Quarterbacks are always at a premium. When you find one, even if they aren't Tom Brady, you have to do your best to hold on to them, even knowing that one day they could suddenly turn into a pumpkin. That's why Andy Dalton and Ryan Tannehill got huge extensions despite mediocre play up to this point. Any why Kirk Cousins likely will in the near future.
So, what happens to those promising young QBs who regress? They become the dreaded "journeyman quarterbacks." Otherwise known as the "reliable backup" or the "QB who haters of the starter constantly call for even when it's obvious he's a worse option" or even "Oh my god, we are starting him? Our QB situation is terrible!" Note that right now I'm explicitly talking about promising QBs drafted to be the future, but failed to live up to expectations (e.g. Blaine Gabbert, Christian Ponder), not other journeymen drafted to be backups, but who keep finding ways to start (Ryan Fitzpatrick, Brian Hoyer).
This year, we've got an interesting slate of failed promises that are going to change teams and begin the long journey towards being "that guy is still in the league?" in 10 years. They have failed their current teams, but because QBs are so hard to find, they will still get a chance. So, let's take a look at these players and mindlessly speculate on where they end up.
Robert Griffin III
TEAM HE FAILED – The Washington Redskins
TEAMS HE MIGHT FAIL IN THE FUTURE – Eagles, Texans, Browns, Cowboys
RGIII has fallen so far. A promising rookie year, ruined by injuries and hubris, now in sweat pants confused by clipboards on the sidelines as Captain Kirk Cousins leads the Skins to the top of a tire fire NFC East. Now that Jay Gruden has managed some success, RGIII is done in D.C. The Eagles are going to be an option for everyone on this list, and Philly is probably his best chance to succeed again (Chip's system is not complex and his good skills might be better utilized), but RGIII is probably more likely to end up back in Texas near Baylor and his family. Dallas is closer, but the Texans need a QB more, and it would be very Texans to pick up RGIII expecting him to be the answer. Of course, there's always the Browns, who are likely to go through a coaching change and might decide Griffin fits the new system, because the Browns are dumb.
WILL HE SUCCEED – Probably not. RGIII didn't show any propensity for learning the game in his years as starter, and his injuries have made him skittish. RGIII is toast. He'll be out of the league in three years.

Colin Kaepernick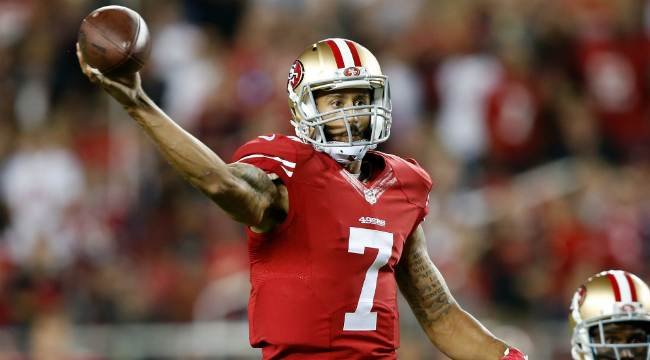 TEAM HE FAILED – The San Francisco 49ers
TEAMS HE MIGHT FAIL IN THE FUTURE – Eagles, Texans, Chiefs
Colin has proven to be a talented player, but for whatever reason has been unable to take the next step. What is on his side, however, is that he was not ruined by injury like RGIII, but instead just mentally declined. If he could land in a place that could coach his fearlessness back into him, he might still be okay. The Eagles are again an obvious choice. His athleticism plus an easier to learn offense might help him out. The Texans are on this list due to desperate need, and Kaepernick still has plenty of potential. The Chiefs are listed mostly because that's where all 49ers cast-offs end up going, but sitting behind Alex Smith, with lower expectations to save the franchise, and being coached by Andy Reid could actually be exactly what Kaep needs.
WILL HE SUCCEED – Kaep has a higher chance than others on this list because he's not injured and he has shown he can play at a high level. His failures right now seem almost all mental, so a good coach could very reasonably fix him. He'll likely be the starter if he goes to a team with no obvious QB, so Kaep could realistically hang around for a while.
Johnny Manziel
TEAM HE FAILED – The Cleveland Browns, Rehab
TEAMS HE MIGHT FAIL IN THE FUTURE – Cowboys
Manziel is still on his rookie contract, but he looks done in Cleveland, and it already feels like a foregone conclusion that JFF is going to backup Romo in Dallas. It's Texas, Romo needs a backup and might be nearing his end anyway, Jerry came inches away from drafting JFF already, Jerry doesn't care how a player acts outside the football field (cough cough Greg Hardy cough), and it would get him even more media coverage. JFF to Dallas is a perfect fit. Obviously, though, Manziel might not even leave. His problems seem to come with coach Mike Pettine, not GM Ray Farmer. If Pettine gets fired, Manziel could obviously stay.
WILL HE SUCCEED – Actually, Dallas might be perfect for Manziel. No one will care if he drinks and parties. In fact, Jerry will probably ask him for some hookups. As for football, he'll have fantastic protection around him, he'll have his very own Mike Evans again with Dez Bryant, a security blanket with Jason Witten, and an offense that's already very understanding of improvisational quarterbacking after years of Romo. If Johnny goes anywhere else, he'll probably flop.
Sam Bradford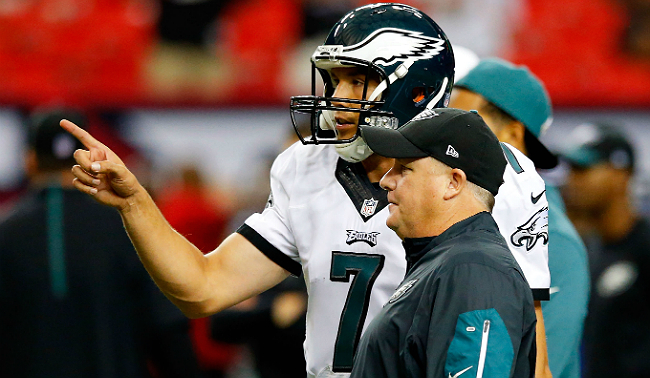 TEAMS HE FAILED – The Rams, The Eagles
TEAMS HE MIGHT FAIL IN THE FUTURE – Browns, 49ers, Texans
Sam Bradford is technically already on his second team after failing the first one, but he feels like he was a temporary stopgap for Chip Kelly, or a bargaining chip (pun intended) meant for Mariota that didn't work out. Whatever the case, Bradford's contract is up this year, and he's done nothing with the Eagles or Rams to show he deserves a big payday. Sam is also broken, with bones made of glass and knees as stable as sauerkraut. There's no real clear destination for Sam. The Browns, Texans and 49ers all seem like places he could start, though.
WILL HE SUCCEED – Sam is not the worst QB in the world, but at this point, he's probably destined to get one more starting job, not do much, then drift from team to team for years as a backup. Either that or he snaps in half and is out of football extremely soon.
Mark Sanchez
TEAMS HE FAILED – The Jets, The Eagles
TEAMS HE MIGHT FAIL IN THE FUTURE – Broncos, Redskins, Steelers, Bears, Cardinals
Sanchez is done as a starter already and every team knows it, so he's going to end up going to a team that desperately needs a backup. It's hard to picture Peyton sticking around this offseason, but he might, so the Broncos are a long shot. The Skins will need a backup to Kirk Cousins who can come in and replace his INT production, the Steelers will need anything competent when Ben inevitably gets hurt, and the Bears need something better than Jimmy Clausen. But really, he's going to end up on the Cardinals. Carson Palmer, Matt Leinart, Matt Barkley (yes, he's a Cardinal now)… Arizona is clearly where former USC QBs go.
WILL HE SUCCEED – Sanchez is competent enough that he'll end up floating around the league for a long time and eventually get lucky and start again after someone gets hurt in 2022, Josh McCown style.
OTHER FREE AGENT QBS FOR 2016
Matt Flynn – he shall continue his NFL world tour.
Josh McCown – he'll end up on the Ravens or something.
Ryan Mallett – he'll be a gas station regional manager in five short years.
Tim Tebow – he won't get a job, but someone is going to talk about him.
Austin Davis – hey, if the Browns start him, he'll get a job somewhere.
The rest.