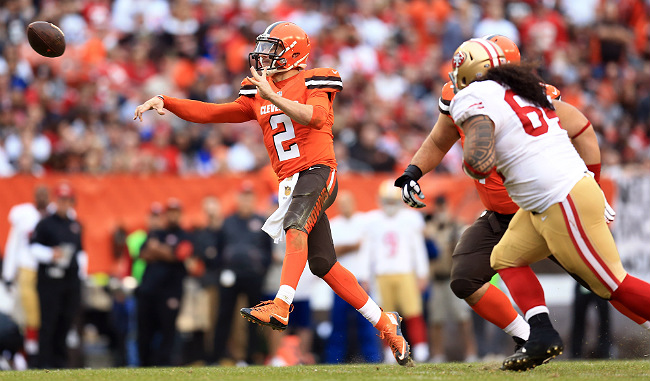 The Cleveland Browns are playing their regular season finale on Sunday afternoon against the Pittsburgh Steelers in Cleveland, but according to at least one report, Manziel wasn't in Cleveland on Saturday night.
Instead, that report had Manziel some 2,000 miles away from Cleveland at a Las Vegas casino.
The report initially appears to be coming from Twitter user Johnny Hornacek who claims to have spotted Manziel at Planet Hollywood in Vegas, and claimed he was sitting with a writer from USA Today who both saw Manziel playing blackjack.
Hornacek didn't post any pictures or videos of Manziel at the casino, so there is no way to verify his report. For his part, Manziel put up this Instagram post which showed him at home in Ohio with his dog.
Manziel is inactive in the Browns' final week due to a concussion, so even if he was at the casino it's not as though he needed to rest up before the game. However, considering the multiple times he has been in the news this year after attending rehab in the offseason, even at one point losing his job as the starter because of his propensity to go out and experience nightlife, going to Vegas the night before your team's final game would be an act of poor judgement if nothing else.
Still, until there are more people who backup the story or any hard evidence to show him at the casino, it's hard to take the reports of him in Vegas as anything more than a rumor right now. And, for what it's worth, one of the sources in the story is a waitress named "Tina Samira." There is a Tina Samira in Vegas, however, she is a somewhat well-known Tina Turner impersonator.
So who knows what's going on here. Fishy stuff for sure.
(Via Fox Sports)