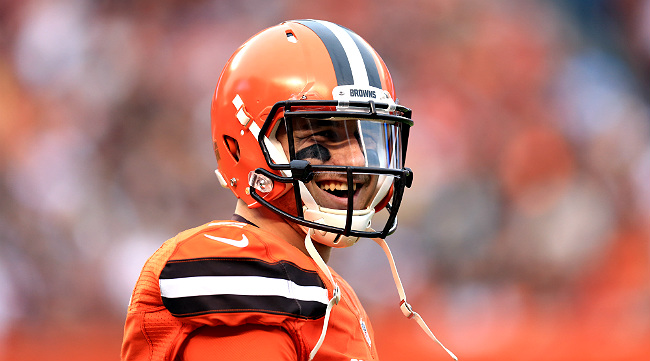 Johnny Manziel last played in the NFL in 2015 with the Cleveland Browns before being cut the following offseason. Manziel was fired by two agents, long-time agent Erik Burkhardt and then he lasted barely more than a month with Drew Rosenhaus, and spent the entire 2016 season out of football dealing with various off-field issues.
Manziel recently noted he wanted to attempt a comeback to the NFL, but many brushed it off as him blowing smoke. Now, there appears to be some fire to go with that smoke as Manziel has re-hired agent Erik Burkhardt, according to NFL.com's Ian Rapaport.
Not only has Manziel gotten his agent back, but Rapaport says he's getting "real interest" from teams at the NFL Combine that's currently taking place in Indianapolis.

For the 15 games he appeared in over two seasons with the Cleveland Browns, Manziel completed 57 percent of his passes for 1,675 yards, seven touchdowns and seven interceptions while going 2-6 as a starter (which is one of the better records for a recent Cleveland starting quarterback). He also rushed for 259 yards and one touchdown on 46 carries.
While Manziel the football prospect has always been intriguing due to his skill set as an athlete, his off-field issues will certainly give pause to any team considering bringing him into camp. Manziel's domestic violence case stemming from a 2016 incident with his ex-girlfriend has reached a settlement, but it requires him to complete substance-abuse training among other conditions. The NFL's program is among the court-approved programs he can go to, but Manziel told the judge that he has his concerns about it, per the Dallas News.
Manziel, standing before the judge, said he was cautious about working with the NFL because he doesn't have as much trust in the league "based on past situations" and how it has treated players.
Manziel did insist to the judge that his life was "going extremely smoothly" and "trending upward," but that's something that needs to be seen over a long period of time to be believed when it comes to the former Heisman Trophy winner. Not only are there the concerns that he might not stay trending upward in his life, but Manziel still could face a suspension from the league over his domestic violence case if he returns to the league.