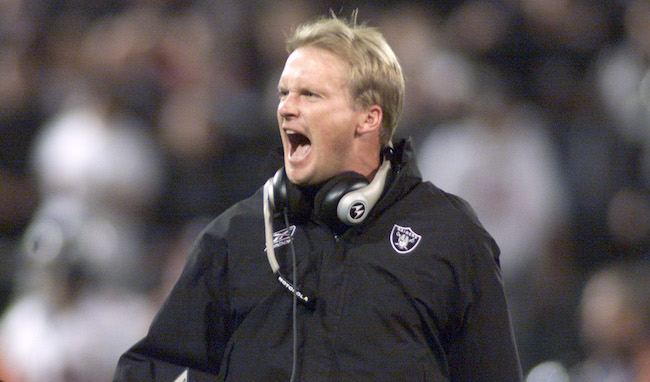 Jon Gruden returning to the sidelines as the head coach of the Oakland Raiders is almost assuredly going to happen. Every major newsbreaker speaks about the decision as if its final, from ESPN's Adam Schefter (Gruden's current colleague) to NFL Network's Ian Rapoport.
The question isn't if Gruden goes back to the Raiders, but how much it's going to cost Mark Davis to bring him back following a 10-year sabbatical in the broadcast booth. There have been reports that it will be in the $10 million-a-year range, although Schefter would only say it's going to be the richest coaching deal "by a landslide," without offering an actual figure.
Earlier on in the process, there were reports from Schefter and Chris Mortensen that ownership stake in the Raiders was being considered in negotiations, which caused many to perk their ears up. That would be a massive bit of information and provide Gruden with a massive amount of money. While that now appears not to be the case, ESPN's Stephen A. Smith went on one of his patented rants earlier in the week about Gruden not deserving ownership stake as compensation.

"Jon Gruden does not deserve an ownership stake in an NFL franchise," Smith said. "Not unless he's coming out of pocket with his own money and investing and they vet you and let you in. He does not deserve to have an ownership stake in a franchise. It should not be allowed. … It shouldn't even be brought to the table. If you wanna give Jon Gruden the coaching job for the Oakland Raiders, no problem. He had success there. … Give him the damn job, that's fine. But ownership?! Does Bill Belichick have an ownership stake? Does Bill Parcells have an ownership stake? … (Mike Tomlin, Tony Dungy, Bill Walsh, Tom Landry etc.) … I'm sorry, but the first time in history a coach gets an ownership stake in a franchise is Jon Gruden? Really? Really? Nah, that can't happen."
Smith's rant and that reporting made its way back to Gruden who went on ESPN Radio's Golic and Wingo on Wednesday morning and set the record straight regarding what has been negotiated and that ownership is not part of the potential deal (transcription via Philly.com).
"There's no truth to that at all," Gruden told hosts Mike Golic and Trey Wingo. "But I appreciate Adam's and Chris' confidence that I have a chance of getting that job. It's awful nice of them."

Gruden also offered a tongue-in-cheek response to Stephen A. "screaming" at him on First Take.
"I heard Stephen Smith screaming at me on TV yesterday on one of his shows," Gruden said. "There's no validity to that at all. None, zero. That's a nice segment that I saw, but no, no ownership, that's for sure."
It's pretty hilarious watching how Gruden is handling all of this. He's not denying he's in talks or that he's got a good chance at the job, but he's also giving everyone an "aw shucks, I'm just happy to be considered" response to questions when he's in line to potentially get the biggest contract in coaching history. There might be big money coming Gruden's way, but he's letting the process play out. He just wants Stephen A. to know he can calm down and take a deep breath because he's not going to get ownership stake.