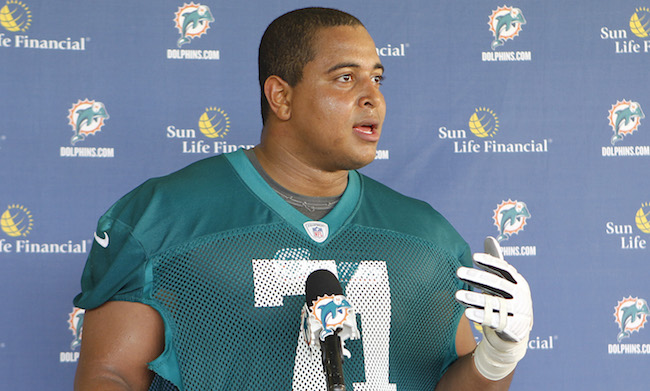 Los Angeles' Harvard-Westlake High School was closed on Friday over the threat of gun violence was posted on Instagram by school alum and former Miami Dolphins offensive lineman Jonathan Martin.
Martin was famously bullied while a member of the Dolphins by teammates like Richie Incognito in a 2013 scandal that led to a brief suspension for Incognito and Martin eventually leaving the NFL. On Friday, Martin posted to his Instagram story an image of a shotgun with many rounds of ammunition on his bed.
The caption read, "When you're a bully victim and a coward, your options are suicide, or revenge," and he tagged Incognito, Mike Pouncey and others, as well as a #HarvardWestlake tag on the gun, which led to the school's closure.

ABC later reported Martin had been taken into police custody over the post and that the high school had been closed due to the threat, an understandable and smart decision in the wake of the Parkland, Florida shooting at Stoneman Douglas High School (among other school shootings in the past few years).
Hopefully Martin can receive the help he needs as he clearly is battling issues still attached to his past experiences of being bullied, and it would be wise of the NFL to understand a need for a culture change in football when it comes to rookie hazing and the like as we become more aware of the consequences that can have on mental health.