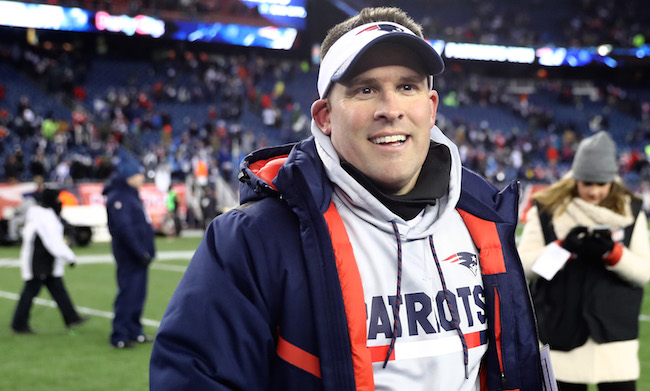 The New England Patriots have a silver lining on what was shaping up to be a brutal week. After losing the Super Bowl to the Philadelphia Eagles, it looked like the Patriots were about to experience a coaching staff exodus, losing its offensive and defensive coordinators to head coaching gigs. Josh McDaniels looked set to become the head coach for the Colts, while Matt Patricia was leaving the organization to take over the Lions.
But in an absolutely stunning move, McDaniels has decided to stick with Bill Belichick and the Pats to run the team's offense. Earlier in the day, the Colts announced that McDaniels would take over the job and would be introduced via a press conference later that evening. But, instead, Adam Schefter of ESPN reported that McDaniels had a change of heart on Tuesday and decided to stick with the organization.
As Schefter reported, Patriots owner Robert Kraft did some work to convince McDaniels to stick around.

Mike Reiss of ESPN added some more details, citing Belichick's future and his family as reasons why McDaniels wanted to stay put.
That kind of makes it sound like McDaniels might get the reigns in the event Belichick doesn't return after next season, but it's not 100 percent clear. What is clear is that New England will continue to employ the same offensive coordinator it has had since 2012, while Indianapolis will start up its coaching search again.
While McDaniels' first head coaching gig went poorly — he went 11-17 in two years in Denver — this was viewed as a second chance after spending more time learning from Bill Belichick.