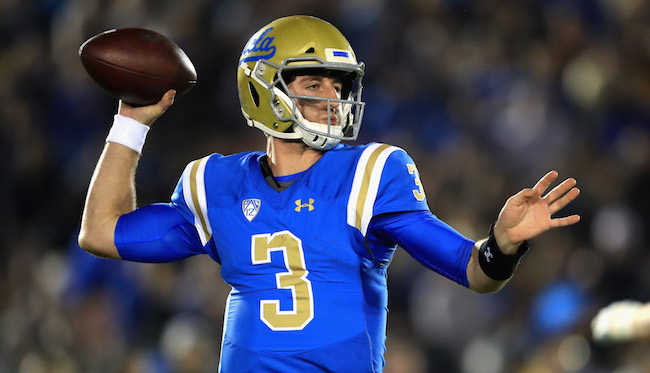 UCLA quarterback Josh Rosen is considered one of the top NFL Draft prospects for 2018. The Cleveland Browns have locked up the top pick in the 2018 NFL Draft after starting the season 0-15, and based on the performance of DeShone Kizer this season, are very likely looking to take a quarterback with that selection.
Rosen might not play in the Bruins' final game of the season in the Cactus Bowl as he is still in concussion protocol, but he has not officially declared for the NFL Draft in order to discuss his options with his parents after the UCLA season is over. There's one factor, in particular, that will reportedly play into his decision: Do the Browns plan on picking him No. 1?
According to ESPN's Adam Schefter, Rosen doesn't want the Browns to draft him, preferring to go to the New York Giants, who will likely have the second pick in the draft and are also expected to target a QB.
UCLA quarterback Josh Rosen would prefer to play for the Giants over the Browns and would be hesitant to declare for next year's NFL draft if he knew that Cleveland was going to take him with the No. 1 overall pick, according to league sources familiar with the situation.

…

Privately, Rosen has expressed concern about winding up in Cleveland and would rather be with a more stable franchise, such as the Giants.
It's been awhile since we had a potential top quarterback come into the draft with a demand to go to one franchise over another. Ironically enough, that was Eli Manning pushing his way to the Giants as well, with the Chargers drafting him and trading him to New York for Philip Rivers. Before we even get into how justified Rosen is to be wary of the Browns as a franchise, let's discuss why so much of the anger surrounding Rosen's decision will be silly and misplaced.
Every time this kind of situation comes up and a player voices concerns about going to a particular franchise, the same thing gets thrown around in conversation. There are plenty who call the kid in question ungrateful for the opportunity to even play in the NFL, which is so often viewed as a gift and a privilege, and anyone with the chance to be drafted should just be happy with that chance.
Yes, there are thousands of football players who would kill for the opportunity to play in the NFL and be on the Browns. They also aren't good enough to be in that position of being a potential No. 1 overall pick, so their feelings on the matter don't count for anything.
Rosen has worked for a decade to be one of the best quarterback prospects in the nation. In any other profession, a top candidate has the opportunity to pick from multiple offers and take the one that provides the best situation for them for a variety of factors. Fit, location, money, and, yes, institutional stability all would factor into that decision. In the NFL and other sports, that's usually not the case. A player is drafted and goes to the franchise that takes him.
That's the right of the franchise taking him, but if the player is willing to live with the consequences, it's also his right to do everything he can to influence where he ends up, even if it might not work. Players have very little agency in where they are drafted, but as a top pick who will be taken with the expectation that he'll be the franchise centerpiece for years to come, Rosen is in the rare spot of having some leverage because no one wants a disgruntled quarterback from the start.
In the case of the Browns, specifically, Rosen is right to have trepidation about joining the franchise. The Browns' history with quarterbacks since rejoining the NFL in 1999 is well known. In the past 19 seasons, 28 quarterbacks have started a game in Cleveland. Of those 28, only four — Derek Anderson, Charlie Frye, Kelly Holcomb, and Tim Couch — have started games in three straight seasons, with Anderson's 2006-2009 streak being the most recent.
There's a chicken or the egg argument to be had with regards to Cleveland quarterbacks. Does Cleveland take bad quarterbacks in the draft, or do quarterbacks fail because the team around them is bad? The answer is probably somewhere in the middle, but considering the Browns have not drafted a quarterback higher than No. 22 overall (three times) there is an argument to be made that they haven't given themselves the opportunity to have an elite caliber quarterback.
That said, the fact that the organization has failed to develop one of those 28 quarterbacks into a passable NFL starter is a testament to their general ineptitude and failure at a fundamental level. It doesn't take much to look around the league to find quarterbacks taken 22nd overall and (much) later that have been developed into decent to star-level starters, and yet, the Browns haven't. That seems like far more than bad luck and even just bad evaluation.
There are tons of factors that go into whether a quarterback can be successful: the offensive line in front of them, the skill of the position players around them, the offensive scheme, the quality of development they get from the coaching staff and on and on. In Cleveland, it's hard to find one of those factors you would have confidence in going into 2018.
The offensive line, once the strong point of the Browns' offense thanks to future first ballot Hall of Famer Joe Thomas (who suffered a season-ending biceps injury), has question marks. Josh Gordon returned from his lengthy suspension and looked to be a dynamic player again but is set to hit free agency, and outside of him (who might not even be around in 2018), there's little to be excited about in the receiving corps or at running back, where they have a serviceable duo of Isaiah Crowell and Duke Johnson. DeShone Kizer's lack of improvement over the course of the season doesn't offer much confidence in the staff as a developmental group, and there's almost nothing you can point to as a defined offensive identity that they have shown in 2017.
The Browns have a new regime taking over the front office for 2018, and it's possible that they turn things around. It's possible Hue Jackson is a better coach than the 0-15 record indicates and he just needs the right players in place. It's possible Rosen could be the savior of the Browns, and if he managed to even make Cleveland a perennial playoff team, he would immediately vault into the No. 2 spot of beloved Cleveland sports figures behind LeBron James.
However, 19 seasons of Browns football since 1999 indicate it's highly unlikely all three of those things can happen all at once. The roster needs an upgrade first before a quarterback can save the team and elevate them to new heights, unseen in Cleveland in more than two decades.
It's a process that will take time before rewards are reaped. It's the same lengthy process the Browns tried to start two years ago in hiring Sashi Brown, who was fired weeks ago in favor of John Dorsey. That might have been the right move, but there's no reason to believe Jimmy Haslam is patient enough to commit to giving Dorsey the time to see out his version of that process.
Because of that, even with any optimism about Dorsey being the right person to lead this latest rebuild, Rosen is right to have concerns about the Browns. It's smart to be wary of two decades of incompetence. The Browns will need someone like that in the future, even if Rosen won't be attainable now.