Ask Josh Rosen a question and you'll get an answer. Not jock talk. Not cliche. All you'll receive is pure, unfiltered Josh Rosen.
The quarterback with three college seasons at UCLA under his belt is primed to take on the starting job for the Arizona Cardinals. It remains to be seen if he'll beat out Sam Bradford this year or get the reins down the road, but once the opportunity arises, Rosen has the IQ and the arm talent to thrive in today's pass-happy NFL. Above all, he's got plenty of moxy.
Rosen showed he is absolutely capable of making an immediate splash. Upon arriving in Westwood, he started as a true freshman, the first Bruin quarterback ever to do so. He threw for 3,669 yards, completing 60 percent of his passes while leading UCLA to an 8-5 record and a Fosters Farms Bowl appearance. He was named Pac-12 Freshman Offensive Player of the Year and was Freshman All-American.
His sophomore season was cut short by injury, but during a bounce back junior campaign in which he threw for 3,756 yards and 26 scores, Rosen showed the accuracy, ability to deliver in tight windows and patience that should translate to the next level.
Football for Rosen is now a job, and amid long-existing chatter from pundits regarding his dedication to the game, the former Bruins star is trying to get settled into his new surroundings.
"That's the word, settling in," Rosen says of his NFL infancy. "I'm fully, 100 percent invested in football and it's really awesome because it's my career now. I'm studying on my iPad until like nine or ten at night and get ready to go to bed. I don't have to close it and open up my history book and study for a test or something like that."


While he hunkers down on the playbook and prepares for his initial NFL preseason, Rosen has made it known that he's motivated not by who chose him in the draft, but by where he was selected. For a guy that was dubbed "Chosen Rosen" as an 18 year old, being selected 10th overall didn't exactly sit well. In turn, Rosen somewhat infamously responded that there were "nine mistakes" made by the teams that took players ahead of him.
"I think the Cardinals understand who they drafted, and I'm going to give them that person," Rosen says. "I'm going to be real and authentic. I'm going to be who I am. Every day that I walk into the locker room, all the guys know what they're getting. I'm going to be the same guy everyday."
All of this is good for Arizona. They now have a dynamically talented, young quarterback with a sizable chip on his shoulder, one they traded up five spots to select. Pair that with an All-Pro running back in David Johnson and a Canton-bound receiver in Larry Fitzgerald, and the Cardinals have offered Rosen a near-ideal situation in which to cut his NFL teeth.
Still, he knows it starts with his mindset and his approach to leading his new teammates, saying "Leadership is a long and messy road. It takes time and effort. It's foundation is within relationships."
How those relationships form will depend on how Rosen is received by his teammates. For some, he could be a breath of fresh air in the locker room that is in its first season in some time without franchise quarterback Carson Palmer and outspoken coach Bruce Arians. For others, they could immediately tune out the kid who has yet to prove it on the field as a pro.
As a player whose college coach, Jim Mora Jr., chided him one week and named him a true freshman starter the next, Rosen is well aware of the delicate balance needed to get on the same page with people. He knows that relationships are important, and that while one approach may work for one person, that might need to be tinkered for someone else.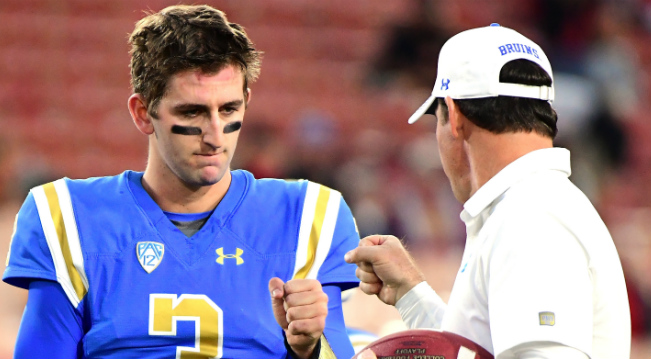 Ever the quick study, Rosen is fine-tuning the mindset of a leader. The ability to speak up is integral for a quarterback in a leadership role. This comes naturally for Rosen, who is well skilled in expressing what is on his mind — he vocally criticized Donald Trump, offered up a searing critique of how the NCAA defines amateurism, and argued in favor of skipping a bowl game for the sake of one's health during his time in Westwood.
Rosen is completely self-aware. Maybe as his college coach would point out, it's a millennial thing. He was raised in the age of social media vitriol, dislike squads, and hot takes. Rosen is not phased when trolled and has a well-crafted resolve to handle anything, no matter how personal, that is thrown at him.
"I've been taking Jewish slurs since I was in high school," Rosen says. "I've been taking that my whole life. Sport is sport and you do whatever you can to get in a guys head, if that's your technique, that's your tactic."
Rosen knows producing on the field is the top priority. That being said, he knows he's capable of more. Mora called him "curious," which may have factored in his draft day slide. In typical Rosen fashion, he's got an answer for that, too. He sees football as a vehicle to take action in his various other interests.
"Football has brought me is that understanding of different communities and different kinds of people," Rosen says. "It's made me want to stick up for the guy that maybe can't stick up for himself. I would have never experienced that if it wasn't for this game. I might say things throughout my career that other people can't, but maybe it's something that needs to be said."
This is significant for a kid that grew up in an affluent Southern California community in Manhattan Beach, the son of a surgeon and a journalist. While his game developed on the field, Rosen watched pros who were taking on challenges off of it — guys like Chris Long building wells for communities in Africa, or J.J. Watt raising money for Houston in the wake of Hurricane Harvey, or Malcolm Jenkins and a number of other football players pushing criminal justice reform.


All of these are examples of athletes using their platforms to make the world a better place. They see forms of injustice or suffering and feel like it is their responsibility to speak up. Rosen might have turned 21 earlier this year, but athletes fighting for what's right has compelled him to join their cause.
"That's the sort of leadership that I think in today's political climate we need from athletes and from public figures in general," Rosen says. "Our world is more important than anything else. I think it's in dire need of some assistance and I'm trying to be here to lend a helping hand."
For Rosen, it genuinely is about taking action and getting involved. He recently signed with adidas and got on board with their "Run the Oceans" campaign to end marine plastic pollution, pledging to champion the environment along with his well-documented fight for the rights of student-athlete.
Time will ultimately tell, but Rosen could be exactly what the NFL needs as the league is in the midst of an image crisis. He's a breath of fresh air, a talented football player who possesses the charisma and social consciousness to spread a message that resonates with young people.
Sure, he has a lot on his plate, but everything starts with Josh Rosen the quarterback. His personality and advocacy off the field have made headlines so far, and in due time, he'll get the chance to prove to everyone why he believes nine NFL teams made a major mistake.