To call Josh Rosen an atypical prospect would be insulting to his peers, the thousands of incoming freshmen who could only dream about throwing the pass that Rosen threw on his first drive of the UCLA spring game — a beautiful back-shoulder fade from the opponent's 30-yard line, disappearing for a moment in the midday Los Angeles sun and resurfacing in the corner of the endzone, square in the breadbasket of senior receiver Logan Sweet.
The ball bounced off Sweet's chest and fell harmlessly into the endzone, but the 8,000-plus fans in attendance let out an audible gasp, while Pac-12 Network color commentator Yogi Roth began gushing praise into his microphone.
"That's as beautiful as you're gonna see in the conference," Roth said upon watching the replay. "Arguably the country."
Rosen is an atypical prospect, and it's not just because he was recently named the starter in one of the nation's most-watched quarterback competitions – at one of college football's fallen blue bloods – merely four months after his senior prom.
"When you recruit the No. 1-ranked quarterback, you hope he lives up to that billing," UCLA head coach Jim Mora said after finally naming Rosen the starting quarterback on Aug. 26. "We haven't played a single snap of football yet."
Ranked as the top quarterback and the second-best overall prospect of the class of 2015 by Rivals, he arrived on campus in January as a local legend. At St. John Bosco High, a Catholic prep school just a 30-minute ride from the UCLA campus, Josh passed for more than 8,000 yards and 90 touchdowns, amassing countless national honors and a nickname — "Chosen Rosen" — after he spurned a massive list of Division I offers, including elites like Florida State and Michigan, to stay home.
The decision clearly paid off, at least for now.
"It's kind of cool," he offers halfheartedly, referencing the massive expectations placed squarely on his 18-year-old shoulders as if discussing a particularly pleasant day outside.
In a world where top high-school recruits are scrutinized by media and contacted by coaches on a daily basis, Rosen presents an odd sort of paradox. He regarded his high-profile recruitment process with a hefty sense of amusement, and recalls it now with the eyebrow-raising derision of a man twice his age.
"I kind of feel bad for all these full-grown men that have to convince teenagers to go to a certain school," he says with a chuckle. "I'm telling coaches, 'You can lay off the phone calls'. No matter how great a guy a coach is, calling me every other day is not going to affect my decision that much."
That was the last step in an 18-year journey that's offered its fair share of twists and turns. As a child, Rosen aimed to follow in his family's footsteps, and took up tennis with his eyes on playing for Princeton — his mother played lacrosse for the Tigers in her college days, and his sister would go on to win a Division III national title in tennis at Emory University. He began to specialize in tennis at the age of 11, but the next two years brought both accolades– a top-10 junior national ranking in middle school — and frustration. His athleticism came with a hyper-competitive edge that made the sport wear on him quickly.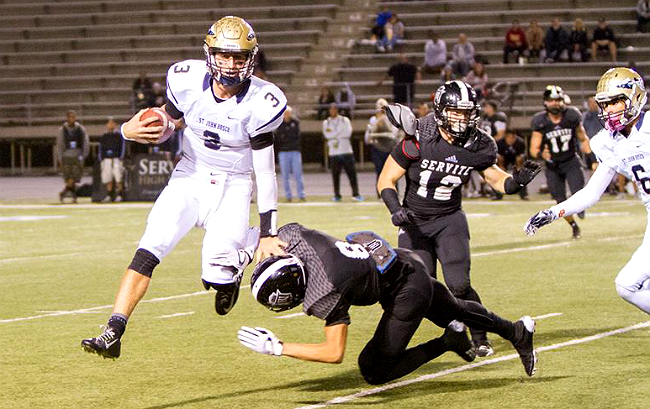 "I played every tennis match like it was World War III," Rosen said. "I was in tears whenever I lost. I didn't want to lose football the way I lost tennis."
He made the switch to football permanent a year before he enrolled at Bosco, and gradually managed to shed his in-game emotions for a businesslike efficiency. Talk football with Rosen for 5 minutes and he'll likely have dropped a couple terms from his introductory business classes already — he talks about the outcome of each play on a "micro and macro level," and quotes Bill Belichick's vision of football as a sum of a bunch of smaller moving parts.
It's disarming to hear such a cerebral approach from the cannon-armed teenager— who admits that for much of his life, football was a means to get into an Ivy League school— if only because his love for the game sounds borderline mechanical.
"I loved Princeton," he begins, speaking on his college decision. "But it's not worth it when you weigh what football can do for you outside of football. I've only been [at UCLA] for three months and I've already made connections a normal college kid shouldn't be able to make. You have to use football in the way that's right for you."
To those taking offense at the idea of football as a means to an end rather than an end itself, Rosen is a walking red flag. But to the contingent viewing student-athletes as a clean 50 percent of each descriptor, he's already passing with flying colors. He vows to play in the NFL, but admits his primary motivation is monetary ("You can play football and make a billion dollars … only in America," he says, laughing), and remains adamant in keeping other career paths open.
Rosen's done a splendid job of both so far at UCLA, securing an internship at a consulting firm for next summer all while familiarizing himself with the Bruins' playbook and defeating veterans Jerry Neuheisel and Asiantii Woulard for the starting job.
While he's quick to scoff at the hype that surrounded his recruitment—"People think they're the king of the world because of some stars they have on their profile," he says— he's hyperaware of the media attention that has followed him through the Bruins' summer workouts. He admits to keeping loose tabs on his headlines, which have ranged from pundits tabbing him as a dark horse Heisman contender to recruiting analysts doubting his love for the game due to his off-field obligations and easygoing on-field demeanor.
"If anyone says I'm not doing it the right way," he comments offhandedly, "I don't really care. "If I was that emotionally invested, at like, a do-or-die level, I'd burn myself out. Some people hate the sport but keep rolling with it, because football is their life. It's not my life."
The freshman draws the line at embracing the role of savior before he's even taken a snap, instead deferring the praise to his team's tantalizingly loaded offense, which returns virtually every significant contributor from last year's ten-win squad. The lone departing senior is former signal-caller Brett Hundley, who left for the NFL after a storied career in which he led UCLA to a pair of Top 25 finishes and accounted for more than 100 touchdowns. For all their recent success, the Bruins' performance in the 21st century has been underwhelming— the same program that won four Rose Bowls in a 10-year span beginning in 1976 hasn't even appeared in one in 16 years.
Rosen, who has transformed himself into a student of UCLA history, is the first to admit his program's reputation.
"We were a little overhyped last year," he admits, referencing the collective youth of the 2014 Bruins. The Hundley-led squad began the season ranked seventh in the nation before two consecutive midseason home losses knocked them out of the national title race.
Still, he can't keep the anticipation from his voice when he talks about the Bruins' upcoming season. "This year is the best year we're gonna have in a while," Rosen says. "We've got a damn good team. I'm excited for the future."
Rosen, the golden boy prospect with a businessman's mind, is now the face of that future. After months of playing it close to the belt, Mora officially named Rosen the Bruins' starter for their season opener against Virginia on Sept. 5. The weeks and weeks of mystery surrounding the job hadn't stopped UCLA fans from dreaming— Rosen has heard everything from "Chosen Rosen" chants in the Los Angeles crowds to pundits labeling him as the "savior of the university."
The overwhelming hype hasn't escaped the notice of Mora, either. After a lackluster practice at Cal State San Bernardino, the coach lit into his prized recruit, mockingly calling him "The Anointed One" and telling him "that's why you have not been named the starter."
Mora justified the heated exchange at the next day's press conference, but stopped short of issuing an apology. "You have to test them sometimes and put them in situations where they're stressed out," he said. "It's just coaching." Still, his coach's tough love is another reminder of Rosen's new level of competition, the side effects of being a teenager assuming the driver's seat of a loaded national title contender.
And somehow, someway, the 18-year-old tries finding a way to keep it all in perspective.
"You can't believe your own hype too much," he says. "You can't forget that you're still a teenager, still growing, still going through puberty."
He trails off, struck once again by the surrealness of his situation.
"People take this stuff way too seriously."