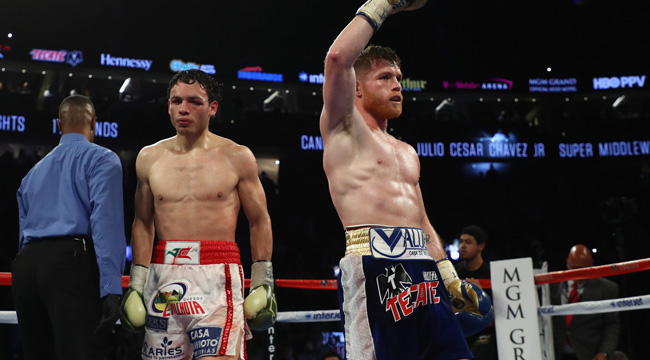 May 6th wasn't a great day in the ring for Julio Cesar Chavez Jr. as most fans agree he lost every single round in his Vegas fight against Saul 'Canelo' Alvarez. But hey, at least he got paid, right? To the tune of $3 million dollars if various outlets in the know are right. But that money almost got away from him after the fight when he was robbed by a group of women partying with him in his MGM Grand hotel later that night.
A few days after the boxing match, footage turned up on social media of Chavez Jr. partying in his room with several frisky women more than willing to show off some of their, ahem, finer assets. And in an even crazier twist, Julio's wife Frida now claims some of those women robbed Chavez Jr. of a $40,000 watch, phone, and $3 million dollar paycheck that evening.
"I had the check on the table and when I checked the next day, there was no check," she said. "The watch was also gone."
According to Frida, the couple met a British man and three girls down by the bar before she had to leave to care for their daughter. Those people are apparently the ones in the social media videos, and the ones Frida has accused of fleecing and maybe even drugging her husband. At the very least, she believes her husband was 'the object of a trap' and fed alcohol until they could relieve him of his valuables.
Not that it matters much when it comes to checks, but the $3 million dollar payment was found later at the MGM Grand. Police are still investigating the theft of Chavez's $40,000 Hublot watch. Unfortunately, his reputation and dignity may be harder to recover.