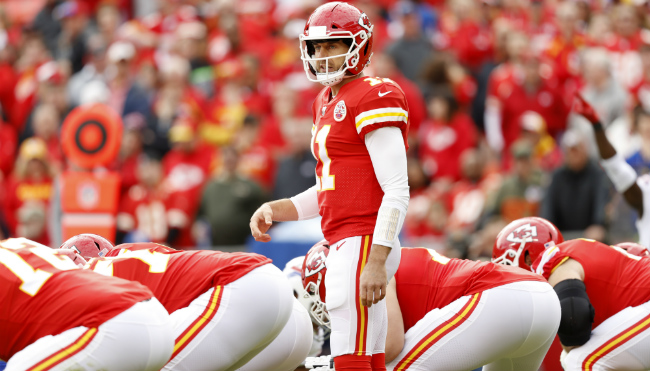 The Kansas City Chiefs traded up last season to select Patrick Mahomes with the No. 10 overall pick in the 2017 NFL Draft. Now, it appears that the organization is ready to turn the keys over to the strong-armed gunslinger, as the Chiefs have reportedly decided to trade incumbent signal caller Alex Smith to Washington.
It's a move that comes straight out of left field, and was broken on Tuesday night by Terez A. Paylor of The Kansas City Star. According to Paylor, this move was financially motivated to some extent, because trading Smith means the Chiefs are now in line to save a ton of money.
However, Smith was entering the final year of his contract with the Chiefs, and he has a cap number of $20.6 million for 2018. By trading him, the club stands to save $17 million.
Smith has been under center in Kansas City since 2013 after starting his career with San Francisco. In five seasons with the franchise, Smith threw for 17,608 yards, 102 touchdowns, and 33 interceptions while completing 65.1 percent of his attempts. Mahomes, meanwhile, impressed in limited action during his rookie campaign, starting during the Chiefs' season finale against Denver and going 22-for-35 for 284 yards with no touchdowns and a pick.

It's a move that has wide-ranging effects: In addition to Mahomes taking over in Kansas City, Smith going to Washington seems to signal that the Kirk Cousins era is coming to an end in the nation's capital. Cousins is a free agent this summer, and there has been plenty of speculation that he would look to leave Washington. As ESPN's Adam Schefter tweeted after the deal went down, this is the nail in the coffin of Cousins' time with the team that drafted him.
It remains to be seen where Cousins will go, but we do know that Smith will stay in Washington for some time, as Schefter reported he agreed to an extension with the organization.
Smith turns 34 in May, and apparently, Washington believes he has plenty of football ahead of him.