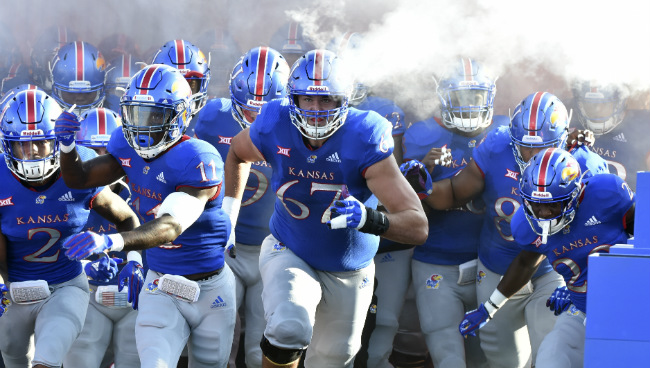 On Sept. 12, 2009, Kansas football walked into Sun Bowl Stadium in El Paso and took down UTEP, 34-7. It was, under most circumstances, a wholly forgettable football game, one that pushed the 24th-ranked Jayhawks to 2-0 on the young season. However, the game ended up living in a state of infamy, as it holds the "honor" of being the last road game won by Kansas.
In the time since that game, the Jayhawks went 0-49 on the road and have gone through four coaches. The program is an example of futility in the sport, but on Saturday afternoon, Kansas football finally grasped the long-elusive road win.
The Jayhawks traveled to Mount Pleasant, Michigan, to take on Central Michigan. Despite the fact that another directional Michigan beat a Power 5 squad earlier in the day, the Chippewas were unable to follow suit, as Kansas came out on top, 31-7.
Kansas managed to get a pretty comfortable lead at one point, opening up a 21-0 margin midway through the third quarter powered by a pair of rushing touchdowns by Pooka Williams Jr. and a Peyton Bender-to-Kerr Johnson connection through the air. Central Michigan, however, cut into it with a touchdown in the third quarter and heading into the fourth, the Jayhawk lead was 14.
But instead of collapsing, Kansas' defense made a play. Shakial Taylor picked off Chippewa quarterback Tony Poljan for his first career interception, which he returned for a touchdown. It gave the Jayhawks some breathing room and, coupled with a late field goal, it eventually led to the program's first road win in nearly a decade.

The win pushed the team to 1-1 this season, as it fell to FCS Nicholls State in overtime at home last week.
Sure, this won't single-handedly turn around perhaps the most stagnant program in Power 5, but it is still a cool moment for a Kansas program that could use all the good news it can get. Perhaps the team will cross "win a Big 12 game" off its list next, as the Jayhawks haven't vanquished a conference foe since their win over Texas on Nov. 19, 2016.