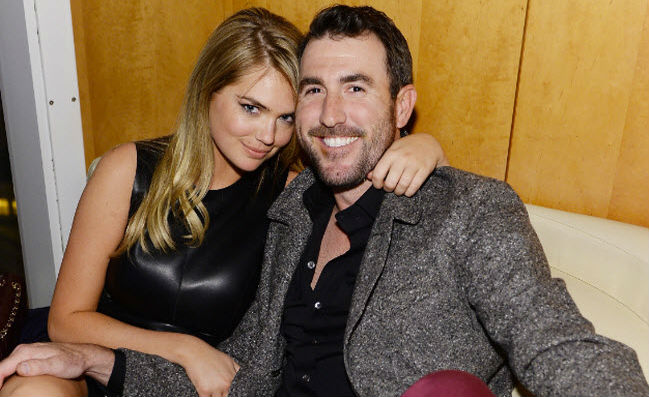 Kate Upton is mad online about Rick Porcello winning the American League Cy Young over her boyfriend.
Upton took to Twitter to express her disdain for the Red Sox pitcher and baseball writers who left Detroit Tigers pitcher Justin Verlander off their ballot altogether, allowing Porcello to pick up more votes overall and win, 137-132.
Verlander's brother, Ben, also got a bit salty online about Porcello winning the award for the American League's best pitcher.
I love that "win's" in that graphic has an unnecessary apostrophe. Porcello went 22-4 this season with a 3.15 ERA over 223 innings. Verlander had a better ERA—3.04—but went just 16-9 and had poor run support over 227.2 innings.
It's not exactly shocking that writers in an association that still thinks "baseball" is two words would value pitching wins more than ERA. For the record, this isn't the first time a pitcher has won the CY Young without winning the most first place votes.
This election marked only the third time that a pitcher won a Cy Young Award without receiving the most first-place votes, the first time in the AL and by the widest margin overall. It occurred twice in the National League. In 1998, the Atlanta Braves' Tom Glavine won by a 99-88 score over the San Diego Padres' Trevor Hoffman, who had more first-place votes, 13-11. In 2009, the San Francisco Giants' Tim Lincecum received 11 first-place votes, one fewer than the St. Louis Cardinals' Adam Wainwright, but won the election with 100 points to 94 for the Cardinals' Chris Carpenter, who had nine first-place votes, and 90 for Wainwright.

Porcello and Kluber were the only pitchers named on every ballot.

The Red Sox account brought out their own big gun to slyly defend Porcello: Baseball Hall of Famer Pedro Martinez.
Kate continues to Tweet through it, replying to random Boston fans gloating in her mentions.
I eagerly await Kate Upton's post on Fire Joe Morgan when she finds out which two writers didn't include Verlander on their ballot. I'm sure Red Sox fan Ken Tremendous won't mind.