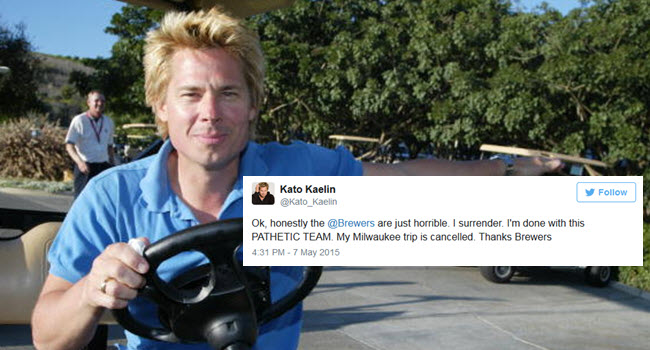 You probably are familiar with the name Kato Kaelin as a witness in the O.J. Simpson trial in 1994-95, or his various work in the television and film industry. But what you may not know is that Kaelin, a native of Milwaukee, WI, is a very opinionated — and frustrated Brewers fan. Last night, the Brewers faced the Chicago White Sox, and Kaelin live-tweeted the game with some hilariously irate tweets.
The Brewers were up 5-0 after just two innings, but the White Sox scored two in the fifth and three in the seventh to tie things up. In the eighth, Milwaukee's Jonathan Broxton came in as relief for Jeremy Jefress at the top of the eighth inning. He then proceeded to give up four hits and two runs to give the White Sox a two-run lead.
Milwaukee would go on to win the game following a three-run eighth inning, but that didn't temper Kaelin's sentiments.
Kato's frustration with his hometown team isn't limited to just last night's game. Last week, he had various salty tweets about Brewers, and they were equally as glorious. This first one calls out pitcher Kyle Lohse, when he gave up three runs to the Dodgers last Monday.
Kato then claimed he was "done" with the Brewers three days later following a 14-4 loss to the Los Angeles Dodgers. Not sure if he really had a trip to Milwaukee physically planned, but way to deny Kato a trip, Brewers.
And finally, after last Friday's loss to the Chicago Cubs, Kato urges to Brewers to sit the next two seasons out and return in 2018.
We hope your Brewers can improve, Kato. For your well-being's sake.
[Source: Twitter]