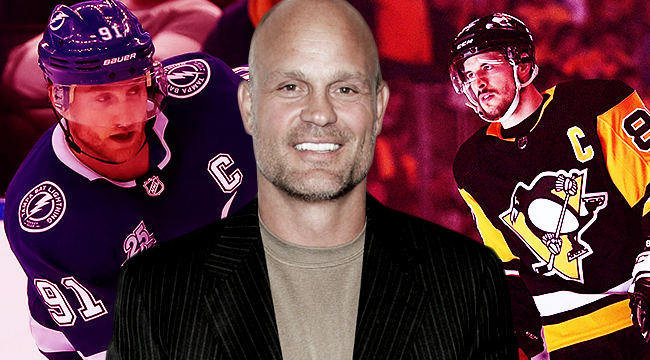 Ken Daneyko played with the New Jersey Devils for 20 years, so don't even bother asking who he's rooting for this postseason. It's hard to fault someone so involved in the franchise to say "we" when talking about the Taylor Hall-led Devils, even if he's in the broadcast booth these days.
Daneyko will be on the call on MSG Networks (MSG and MSG+) for Games 3 and 4 of New Jersey's first round series against the Tampa Bay Lightning, and if the series goes longer, you'll hear him on the call for Game 6 and 7 as well. The Devils might need that long to take down one of the Stanley Cup favorites, but Daneyko explained why he thinks the Devils have a chance.
The Devils legend and MSG broadcaster sat down with Uproxx to break down the rest of the first round on Friday. He's got plenty to say about the pressure on the Washington Capitals, whether the Pittsburgh Penguins can three-peat as Stanley Cup Champions, and gives his verdict on the trade with Edmonton that sparked the Devils' recent resurgence.
Uproxx Sports: Tampa Bay's a team that kind of lures you into making mistakes. Is that something that, as the series goes on, as you see that team more and more you get a little more used to the way they play and those mistakes go away?
Ken Daneyko: I know the playoffs is a different animal, everybody is ramped up and the intensity and everything. But the Devils were so good during the regular season at just being patient and taking away the high-scoring areas. And they didn't do that on Friday night, and that's where they made the mistakes. So I think it's just more about the Devils, again, playing a tight, more structured game especially in their own zone. Playing their style and not trying to get caught up in chasing Tampa too much.
They're a good puck position team, the Lightning, and if you get two, three guys chasing, especially when they're not really dangerous whether it's in the corner, in the defensive zone, or not in a high scoring area. It's more about protecting where the danger area is, and looking around. And they've got like I said, puck watching a little bit, made some mistakes, but again I think Coach (John) Hynes mentioned it, and I totally agree, very correctable.
Columbus was able to come back from an early deficit and beat one of the favorites out in the East. When you look at that came from a Blue Jacket standpoint you're thrilled, but if you're a Washington Capitols fan are you thinking no, not again?
Well look, I don't think there's much discrepancy between the two teams. Columbus was one of the best teams down the stretch, in fact I am one of the guys that think Columbus has got as good a chance as anybody to come out of these two conferences. So you might be talking to the wrong guy: I always think there's going to be upsets but I don't think that would be a huge upset whatsoever.
So from a Caps standpoint I know, I was seeing, it's a tough loss because you're leading the game, it's at home, you hate losing the first game. But you know, Caps have been good on the road too — home ice isn't huge in many series but especially in that one. So it's a tough loss, you take it in stride, you move forward. You can't get rattled.
The Capitals came into the playoffs flying under the radar. They're a good team and that's probably a good thing for them from the standpoint where they're the perennial favorites over the last few years and just have fallen short. It's not easy to win and they're learning that along the way, but it's tough to lose the way you did when you lose in overtime.
You just have to have a sort memory in the playoffs. We'll see if the Caps can have that for sure, moving forward and in Game Two because I never say "must," but you never want to go back to Columbus down 2-0. And I'm sure they'll analyze, I expect it to be a long series. I expect that to be one of the better serves, certainly. I think both teams are real good and play a very strong physical style.
The biggest thing for Columbus is, why I think they're better and they can maybe get over a hump is because they've got a game breaker now in (Artemi) Panarin. They didn't have that before, and that was probably what was eluding them. They don't play teams, even when they played the Penguins and previous playoffs, but they didn't have a game breaker. They don't need as many opportunities to score, and the times they were dominant but they just couldn't bury the puck. Now they've got a guy that can do that, and he did it in Game One, didn't disappoint in overtime but with a real nice goal. So I think that's what, from my perspective that makes them certainly a little more dangerous than they've been in the past.
I think you're right about the Caps, and especially because they're a different team than they were the last couple of years. But it's easy to fall into these narratives. Especially with a guy like Ovechkin, who's so dynamic and has had so much success in the league but maybe hasn't had it in the post season. Is that something that matters to you? That he has to get it done, there's got to be this extra pressure on him?
Well no, he's been great. I mean he's been one of the most prolific goal scorers, if not the most prolific scorers the game has ever seen, certainly in the last decade. And I've always liked him in the playoffs, he's one of the guys that always shows up. He plays the game hard. Yeah, there's pressure for him to produce and all that's eluding him is the Stanley Cup, and again I go back to it's a team game. There's a fine line of wining and losing, it's not easy to win and again I just speak from experience. I was very fortunate to be on teams that won, and we won three times, and went there four, always thought we had a chance. Like the Capitals, kind of were going into the playoffs for about a 10 year period, eight to 10 year period.
You believe you're one of the teams that in the hockey world maybe outside of your locker room thinks has an opportunity, and it's eluded them obviously, but so it does for sure put a little more pressure on. But that's why Alexander Ovechkin makes 10 million bucks. Along with that, along with being a star comes some pressure. But for me I think he takes at times maybe too much ire. When I watch him and I obviously watch the playoffs closely when the Devils have been in the last five years, he's a guy that competes and plays hard. It's not always going to go perfect but I think he rises to the occasion. I think that now it's about the Capitals in general, if they can get over that proverbial hump and be a team that can be a Stanley Cup contender.
But a lot of hockey left, like I said I like Columbus, I like the way they're built, but I think that's a long tough series that the Capitals can win, certainly. And if they do beat a good team early then I think maybe they settle down and can get rolling/ It's going to be a tough task to beat Columbus. But Ovechkin to me you know, I go by how you play it. That doesn't work out perfectly but he competes and plays hard besides being a star player and yeah he needs to score a few goals for them to win, and he knows that.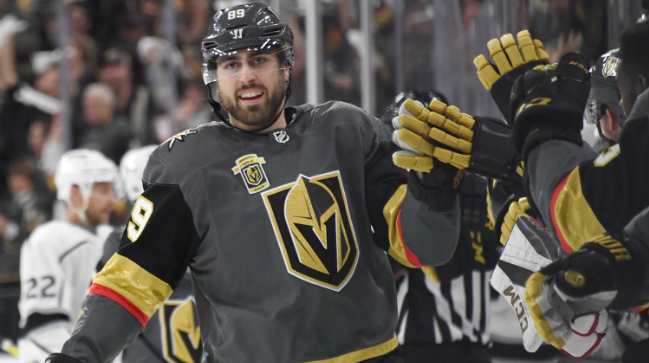 Are the Knights for real? Because I think if you're a fan that maybe didn't pay much attention this year, you know it's a team that exists and then you look at the postseason might be surprised they got there. Do you think they're a team that can make some real noise?
Well they've shown they can. The Kings are a pretty good team. I think that's what makes the playoffs special. I always just go back to reflecting in memories of the team I was on in '88, when we made the playoffs and nobody really expected it. Had a good group of young guys, and made the playoffs on the last day on a miracle eight-game run. We went 7-0-1 and we're the last seed, and ended up upsetting the Oilers, the top seed, then the Capitals, and going one game from the Stanley Cup Final. So when you play like a team and when you believe in yourself anything can happen.
Are they for real? I didn't know what to expect come playoff time, you have to see it. Despite them being the best show on ice this year, and one of the best hockey stories you're going to hear in a long time with an expansion team to do what they did during the regular season. But the more you watch them, obviously they did a great job. George McPhee, as far as the general manager, as far as picking the right guys, and character guys. And some skill guys, they had some, because of the way the expansion draft was derived this time around they had a little more advantage than did past expansion teams. More good players exposed, so there's some pretty darn good hockey players on that team.
But to come together so quickly is what I guess maybe is the surprising or unexpected part during the regular season. And now they're just turning that right into the playoffs, they're not overwhelmed. They're deep team, watching them. They've got four lines that can play, that can score. And that's remarkable for an expansion team before. To me obviously they've got a goaltender that's won a Stanley Cup along the way, so he's not certainly overwhelmed in these situations. Been there, done that. Marc-Andre Fleury really kinda solidifies it there in goal.
And collectively on D, I think maybe that's where I thought their weakness would be, but they play good as a group. Sometimes you don't have to have the household names, if you play good as a six-man unit you get the job done. They certainly did in Game One shutting out the Kings. But I do think they can make some noise, they're dangerous, they're going to give the Kings all they can handle here. I don't think anybody's taking the Vegas Golden Knights lightly anymore, if they were prior.
With Boston/Toronto, was the Bruins Game One blowout was just a case of some Game One jitters from the Leafs? I seem to think the two teams are a little closer than the Game One score indicates, but I just wanted to know your thoughts.
It was one game again, I was a little bit surprised. You never know how the playoffs are going to start. Boston kind of went in reeling, after a terrific season didn't play well down the stretch. And it concerns everybody, well they were able to turn on the switch and get back to playing the way they were playing most of the year and kind of manhandle and dominate the Leafs. Leafs ran into some penalty trouble, and you give up three power play goals, special teams is so important, you're going to be in trouble. I expect that to be a real good, tough long series, despite what happened in Game One.
But I was a little surprised, you always are, you look at it a game at a time. And then the Leafs had that experience last year so I thought they'd be a little more even with these young guys, and all the talent. But they had the playoff experience from last year, that they'd come in a little more prepared for Game One. It didn't happen, and you put it behind you, have to have a short memory in the playoffs.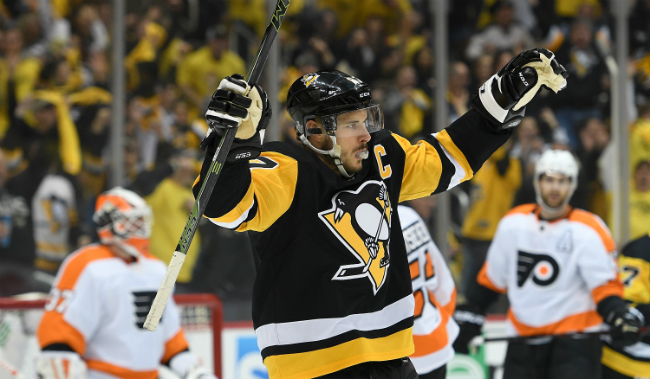 With Penguins-Flyers, it's so hard to repeat, let along to three peat and Penguins have struggled at times this year, but it just seems every post season they're ready to go. Is there something about just the way team prepares for the post season, or are they going to see some struggles this year as well?
You obviously wonder is the fatigue factor going to set in, the Stanley Cup Playoffs is such a grind to go four rounds. And that just is, physically obviously but as much mentally. But will they go through some troubles? Well, possibly, but the Pittsburgh Penguins, when you have guys like (Evgeni) Malkin and (Sidney) Crosby leading the charge, and everybody around them seems to raise their level of play and throw in Phil Kessel, who flies under the radar, who's an elite player and terrific scorer. Just makes him that much more dangerous.
What's different about the Penguins and teams that win, and I played on teams like that as well when we were always the favorites, and won a few times, went to the Cup the last three of my four years of my career, is you win games that maybe you get outplayed in. I saw that a lot last year, they get out played, but you go "How the heck did we lose that game?" They beat you 3-2. They beat you 4-3 or 5-4, because they don't need as many chances, they obviously don't squeeze the stick, they don't feel the pressure on that.
They've got guys who can put the puck in the net, they've got elite players, some of the best players in the world. And you know, you tip your cap to Sidney Crosby, who's a guy that for a decade now has been maybe the best player in the world. I don't know, individually maybe but not only Sidney Crosby is a great player, he knows how to win, he knows how to make players better around him, he knows how to be a leader. And that goes a long way, so penguins are going to be tough.
Game One obviously wasn't one of those games where they got outplayed, they dominated, they buried everything. Every shot they had, Flyers didn't get great goaltending either. But that is a little bit demoralizing, the way they lost certainly. And there's only a few rare teams, teams that have won and been there, and done that, and know how to win can turn the switch on come playoff time. And that's what the Penguins seem to do time and time again, so you go here we go again, here's Pittsburgh. Fans outside of Pittsburgh going, "well geeze we're getting tired of the Penguins being so good they're kind of like the evil empire, the team you have to knock off if you're going to win the Stanley Cup eventually." But they are that good, and you have to give them credit, it's going to take a special effort to knock them out from some team, they're going to beat the Pittsburgh Penguins.
When you have a core group that they've had for awhile, and it doesn't have to be many but even a core group of Malkin, Crosby and now you've got a young goaltender that has been elite in the playoffs, struggled a little bit this year in regular season because of injury. But Matt Murray looked like the guy we've seen in a big game he's as clutch as it gets for such a young goaltender. You don't need much more, and everyone contributing, and they do have supporting cast. But when you've had Malkin and Crosby for 10 years, these guys have a lot of skill. More importantly in the playoffs they have will as well, and that's tough to contain.
So Colorado and Nashville, I think Nashville has pretty big expectations after a run to the finals last year, what does Colorado need to do other than have Nate MacKinnon come up really big in this series, what do they have to do to kind of keep pace with this team?
Well they stayed with them early, it was a pretty good game and we got to catch a little but you know, actually had a 2-0 lead. But then Nashville stayed patient and then did what they did all year and relied on their depth and were able to get the Game One victory. But it's going to take a lot for Colorado here, there's no doubt about it. Nashville has had a taste, they've come close obviously losing the Cup Finals so they are hungry, they are focused. And you mentioned goaltending, well their goaltender may have to steal a game or two if they're going to have a chance in this series. But I think the odds are tough certainly and Nathan MacKinnon, a Hart Trophy candidate, is going to have to go wild, certainly, but every team believes it doesn't matter how big of an underdog they are, the Devils against Tampa, Colorado and Nashville.
If you can get one win, and get that confidence, and put some doubt in the opposition. It's always about trying to put doubt in the opposition, even a team as good as Nashville. So that's what they're going to have to do, but they're going to have to get Jonathan Bernier to steal a game here to maybe get them to believe that they can actually upset a heavy favorite.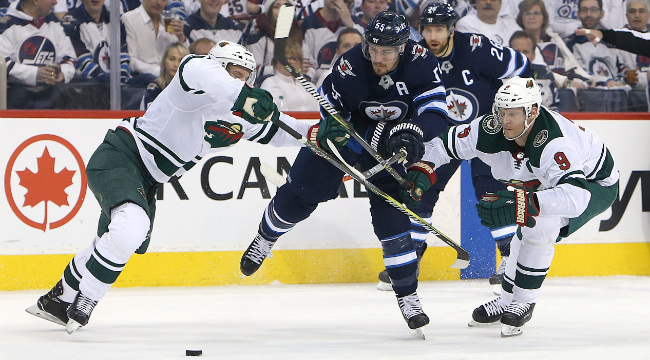 I think Minnesota and Winnipeg's the series I know the least about, and I think that might be the case with a lot of America. Is there somebody in that series that you think is going to make a difference? Who's the X-factor on either team there?
Well, Minnesota was really hurt when their best defenseman went down for the season. The golden egg was Ryan Suter who lodged the most minutes in the back end, 26, 27 and sometimes as much as 30 minutes come playoff time. So that's tough, but both teams have excellent goaltending and that's what this series may come down to. Winnipeg, you maybe don't hear as much about them but that is as deep a team offensively as anybody in the league. We talk about the Lightning scoring, and their depth, and the depth of some of the top scoring teams but Winnipeg is probably as dangerous as any team in the league. They can score with the best of them, they've got one of best pure snipers in the league in Patrick Laine. Now they've got great goaltending, a Vezina candidate in my opinion Connor Hellebuyck.
Which was missing from the Jets last year because it was a team that they thought were, and me too on paper as good as anybody. But they didn't find that consistent goaltender, kind of alluded what you were talking about earlier. Well he was terrific this year, and if he plays the way he's capable of the Jets certainly have an advantage in that game. But Minnesota's a very tight-checking team, it was a close Game One even though I thought the Jets outplayed them, certainly in the first and third periods. The Jets, if they can get over that hump, they haven't won a playoff game until Game One against the Wild. And I'm sure that makes them feel a little better, feel good about their chances. If the Jets get the goaltending, play the way they can and use their depth, because there's a deeper team in scoring, that team can go all the way there's no doubt in my mind.
I'm not saying the Wild don't have a chance, because the Wild are very good at home. Jets are a dominant team at home, decent on the road but not nearly as dominant like I said. So I think it's going to be a pretty long series, but for my estimation the Jets will probably prevail, and I think they could be one of the teams where I wouldn't be surprised if they're knocking on the door of being in the Stanley Cup finals.
San Jose had a very good Game One against the Ducks on Thursday. I think there's a lot of expectations there for that team already. They went out an a deadline and acquired Evander Kane. He made his first playoff appearance and showed up right away. You know, what does that change for the Sharks when they have a guy like Kane that comes in and, I think he's very different player than a lot of people expect.
He paid dividends in Game One for sure, with a couple of goals. San Jose, I watched a lot of that game because ours was over. They're strong defensively, the defense core's good. Martin Jones was good in that, they didn't give Anaheim anything. They stifled them, and that's the type of game you win in the playoffs. You can win that type of defensively, because it really frustrates teams and you just don't get many good looks. And I don't think Anaheim had a whole lot of good looks for scoring chances on Thursday night.
And then Evander Kane gives them again, a sniper that maybe they were missing. The Sharks were always a deep team, good team. Went to the Cup Finals a couple of years ago but lacked maybe that extra scoring punch. Well, their second tier guys have improved this year, the (Chris) Tierneys, and the Tomas Hertls and certainly has given them more offense. And I think that's what was maybe missing a little bit from their team. They've always had Couture, and Pavelski, and Thornton who may come back, you know guys that you can rely on. But you need depth scoring, you need other guys to produce. And you add Evander Kane who is the goal scorer, and has speed, and is a physical guy and I mean it's such a huge element for the playoffs. He fit in perfectly there in San Jose, so they look good.
There's a sleeper team, I guess you would say, that is going to be a team that you better be prepared for because I love their defensive structure, Pete DeBoer does an excellent job, I have experience from him when he took the Devils in 2012 to the Cup Finals. So that's a good team, dangerous team. Especially because of how well they play defensively, but all of a sudden yeah, Evander Kane, that gives them another weapon from a scoring standpoint and is going to make them that much tougher to beat.