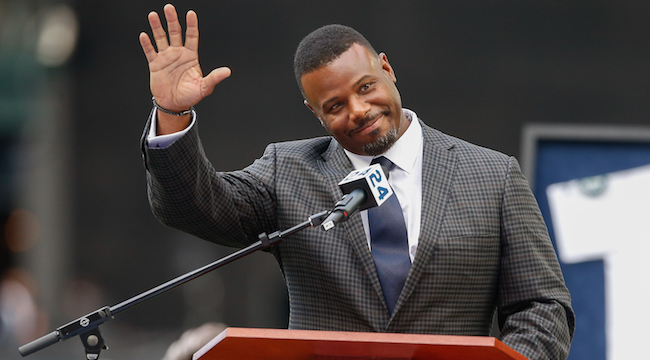 Ken Griffey Jr. is one of the best players in baseball history, and he was fittingly inducted into the Hall of Fame in Cooperstown as a member of the 2016 class. The legendary Seattle Mariners star was a tremendous multi-sport athlete before setting the record for highest Hall of Fame voting percentage, and on Tuesday, Griffey joined the Dan Patrick Show for a wide-ranging interview.
Within that exchange, Griffey was asked about his high school career as a football player. He revealed that the Michigan Wolverines were his first choice if the super-athlete chose to pursue that particular avenue.
"I'd have probably gone to Michigan. Only because one of my friends, Vada Murray, who passed away, went to Michigan and as a freshman and sophomore he was my big brother at Moeller."
Griffey starred on the football field at Cincinnati Moeller High School, where he also played alongside another Hall of Famer, former Michigan and Cincinnati Reds shortstop Barry Larkin. While Griffey notes that Murray was a Michigan standout from 1988 through 1990, it is not exactly up for debate that Griffey made the right decision in pursuing baseball straight after graduating from high school.
Declarations such as this one are always funny in retrospect, simply because this was a decision that would have been made nearly 30 years ago. In fact, in the time that has passed between Griffey's "college decision" and today, his son, Trey, was born, grew up, and had a respectable career as a wide receiver for Arizona.
Still, it is clear that Griffey had a direct tie to Ann Arbor and Michigan Men everywhere are left to dream about what it would have been like to watch an all-timer play two sports for the university. At the very least, Griffey isn't the only former baseball star who has strong ties to Michigan despite never going there.
Later in the interview, Griffey casually mentioned that he "got more offers" in football than in baseball, which seems at least partially far-fetched. Still, there is no denying his transcendent athletic ability and reflections like this leave the mind to wonder just how dynamic Griffey might have been on the gridiron.