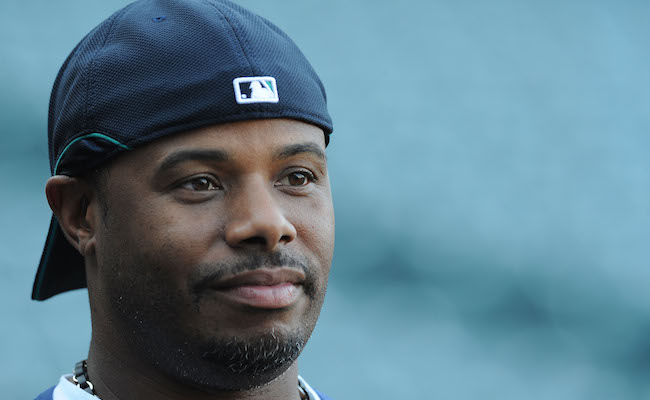 Ken Griffey Jr. is already no ordinary Baseball Hall of Fame inductee. Following Wednesday's announcement of the 2016 HOF voting results, Griffey set a new record by landing on 99.3 percent of ballots, surpassing Tom Seaver's 98.8 percent for the highest ever.
But, once his plaque goes up in Cooperstown, Griffey may stand out among baseball's greatest for a much different reason.
If Griffey's signature backward hat does indeed make it onto his HOF plaque, he would be the first of the 200+ in Cooperstown without a front-facing cap, which would surely get the whitey tighties of all those crusty, old baseball traditionalists in a bunch. Griffey would show up to his induction and be received by hoards of bitter, pale-faced, white-haired geezers shouting "RESPECT THE GAME!!!"
And that's exactly why it needs to happen.
Baseball "purists" love to preach about the history of the game and shout down anything that sits outside the sport's norms from a century ago, even when it's exciting and good for the entertainment value of the game. (See: Bat flips.) Most of baseball's "unwritten rules" about respecting the game are a turn-off for the younger generation that the sport is trying (and failing) to attract. Baseball needs to be more fun and cool, and — to do that — it needs more players who are allowed to be fun and cool.
With just the simple act of twisting his cap backward, Griffey created a signature look and didn't conform to the lame "RESPECT THE GAME!" crowd that casts a shadow over baseball. He was himself and — for many '90s kids like myself — he was the epitome of cool.
Sure, like so many other players of the decade, he mashed baseballs. But Junior's swing was the sweetest and his swag was the most undeniable. He wore his hat backward and his smile wide, and kids loved it. Young baseball players turned their hats backward to be like Ken Griffey Jr. With just the simple act of twisting his cap backward, Griffey made baseball cool.
Now and forever, baseball would be stupid not to embrace that.