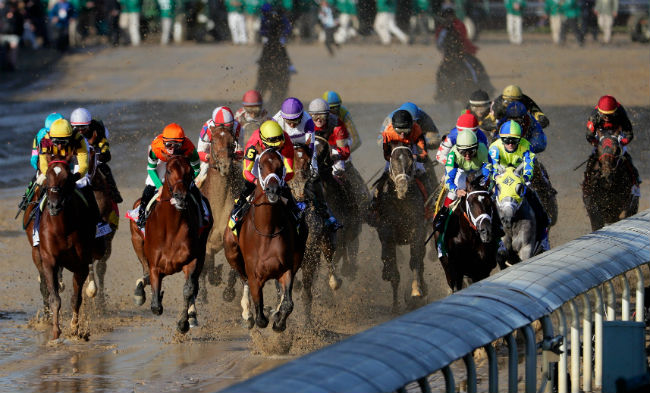 Always Dreaming won the 143rd running the Kentucky Derby on Saturday, but one unruly horse stole America's hearts. And no, it wasn't Tom Brady.
Thunder Snow had no interest in running a horse race on Saturday, bucking and prancing his way to a last place finish in the Derby and a first place finish in my anarchic horse power rankings.
Thunder Snow had won the Dubai World Cup in March and many had high hopes for its chances in the Derby, but a sloppy course was clearly unfamiliar for a horse trained in the desert and he seemed not to be a big fan of rain or the chains of human servitude.
Thunder Snow had 20-1 morning line odds and 16-1 odds at post time to win from the second position, so its disappointing performance on Saturday caused plenty of people to tear up their tickets and curse the weather and their bad luck.

The only thing that would have made this better is if he pulled up, threw the jockey off and walked over to the concession stand and got a mint julep for the road. Or maybe he should have stayed on Yum! Brand and got some Taco Bell.
We're allowed to poke fun at Thunder Snow's lackluster performance because we eventually learned he's OK. Often when horses pull up like that they've suffered some kind of injury. Many were worried about the horse's health and thought NBC's reticency in providing an update about its condition meant something was wrong, but soon after the celebrations for Always Dreaming was attended to we learned Thunder Snow was healthy.
Like so many of us on most days, he just didn't want to run.