The headline above might sound like some sort of ridiculous mad lib, but it's going to become a real thing. I swear.
Kevin Spacey has become somewhat of a mascot for the 2015-2016 Florida Panthers. Almost every team in the league has some sort of 'player of the game' item that goes to their outstanding performer after every contest, but the Panthers might have the weirdest – a sweatshirt featuring Spacey's face laid over outer space.
The garment has been appropriately dubbed 'Spacey In Space,' and it's so popular that it's even for sale in the Panthers' official team store. Defenseman Aaron Ekblad even brought it to this year's All-Star Game in Nashville, where he sported it during the Hardest Shot competition.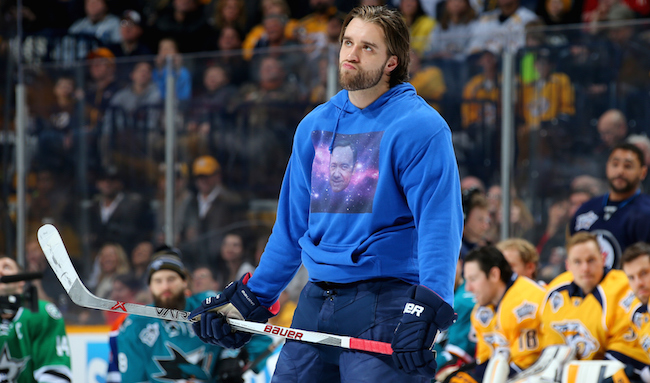 Nobody seems to have much certainty how the tradition came about, as players (and Spacey himself) have remained tight-lipped about its origination. Veteran forward Shawn Thornton is believed to be the guy who first brought into the team's locker room after a trip to New York.
The actor certainly doesn't seem to have a problem with the Panthers using his likeness as a rallying point. In fact, with a few weeks left in the regular season, he's finally ready to embrace it in person.
If that wasn't good enough, Spacey will apparently attend the game in a customized Panthers jersey with his name on the back. His number of choice on said jersey? 1738, a reference to rapper Fetty Wap's song "Trap Queen," which the team plays after wins.
Hockey is weird. Kevin Spacey is weird. Fetty Wap is weird. This is all so weird.
Now Watch: What Does Calvin Johnson's Retirement Mean For The Future Of The NFL?