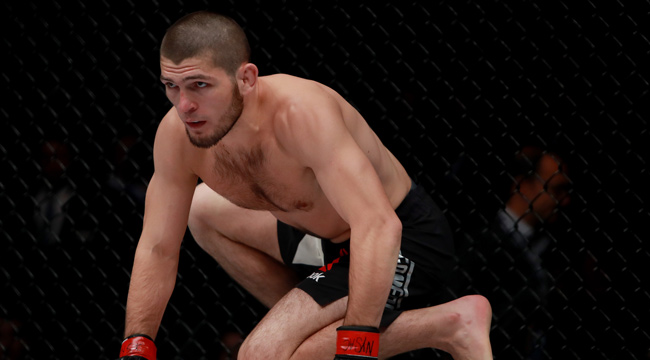 Khabib Nurmagomedov (27-0) is maybe a little too anxious to get back inside the Octagon after seven months away from the UFC. The current lightweight champion announced through his agent, Ali Abdelaziz, that he wants to defend his title three times over the next 11 months — fighting in September, December and next April.
"He gave me very specific instructions," Abdelaziz told ESPN. "He said he wants to fight Sept. 7 and again in December. And if [former welterweight champion] Georges St-Pierre can figure things out with the UFC by April, that's the deal. He would like that fight in April."
Nurmagomedov is serving a suspension stemming from the chaotic aftermath of UFC 229, when he submitted Conor McGregor. He'll first likely face Dustin Poirier at UFC 242 on September 7 in Abu Dhabi later this year. No matter if he's still champion come April, Nurmagomedov has continued to acknowledge wanting a bout with St-Pierre (26-2) despite his retirement in February. The 37-year-old St-Pierre hasn't fought since November 2017, when he returned from a four-year layoff to submit Michael Bisping and claim the middleweight crown.
As for who is sandwiched in between a showdown with Poirier and and possibly St-Pierre, Nurmagomedov's coach believes if it's going to be a rematch with McGregor, he's going to need to earn his way into the fight.
"To be honest, Conor is going to have to go out there and fight somebody like Justin Gaethje, Tony Ferguson or Cowboy [Donald Cerrone]," Abdelaziz said. "He's not a worthy enough opponent right now. That's the feeling from all of us, as a team."
McGregor announced his retirement from 'Mixed Martial Art' back in March, but that came about a week after he expressed interest in continuing to fight so long as the UFC gave him a share in the company.