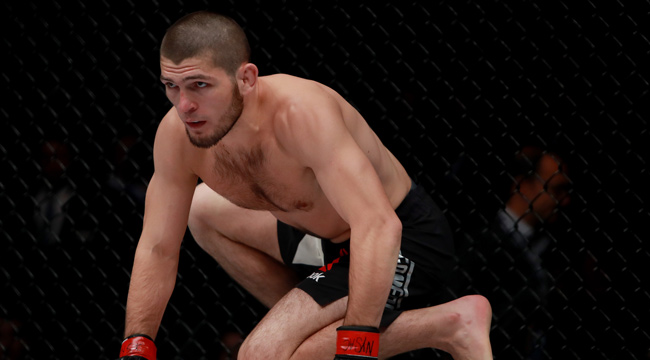 UFC 209 just got a little less stacked. The highly anticipated card taking place this Saturday March 4th in Las Vegas was originally set to feature two title fights: a welterweight title fight between champion Tyron Woodley and Stephen Thompson, and an interim lightweight title fight between Tony Ferguson and Khabib Nurmagomedov.
Unfortunately, the interim lightweight fight is off after Nurmagomedov was taken to the hospital in the hours leading up to morning weigh-ins. Here's the UFC's official announcement.
"UFC lightweight Khabib Nurmagomedov was transported to Sunrise Hospital & Medical Center Thursday evening due to weight management medical issues. He was treated and has been discharged, UFC officials confirmed.

"The scheduled interim lightweight championship bout between Nurmagomedov and Tony Ferguson at UFC 209 has been cancelled on the doctor's recommendation."
Not much is known at this point exactly what happened to Khabib, but weight cutting has been known to cause all sorts of problems from dangerously high blood pressure to flu like symptoms to dehydration and fainting. Yesterday, a drawn but resolute Nurmagomedov said his weight cut was difficult but going according to plan. Obviously something happened between then and now that sent him to the hospital.
Here's hoping the fight gets shifted to UFC 210, currently headlined by light heavyweight champ Daniel Cormier vs. Anthony Johnson. Or maybe something crazy will happen and the UFC suddenly drops fellow lightweight fighter Nate Diaz into Khabib's spot against Tony Ferguson. That'd be crazy, but considering Jon Jones was replaced by Anderson Silva to fight Daniel Cormier at UFC 200 on a day's notice, nuttier things have happened.
UPDATE: There will be no replacement fight for Ferguson: