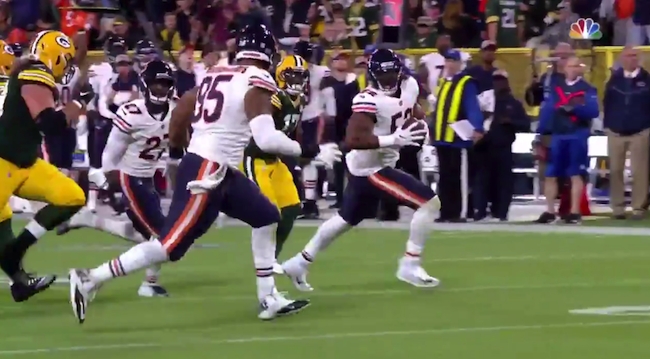 The biggest move of the offseason in the NFL happened just a week before the start of the season when Jon Gruden and the Oakland Raiders decided they didn't want to pay Khalil Mack, despite being a perennial Defensive Player of the Year candidate.
The Bears were willing to part ways with enough draft picks to bring him in where they were more than happy to give him the largest contract in history for a defensive player. On Sunday night, the Bears made their season debut and Mack did not start given that he didn't participate in training camp, but once he got on the field, he was a monster.
Mack's first two possessions as a member of the Bears saw him force an Aaron Rodgers incompletion with a bull rush into his lap and then he got a holding call on the next play. Mack was also part of the second quarter sack that unfortunately saw Rodgers injure his left leg and get carted off the field. With DeShone Kizer in the game and the Bears defensive line feasting on the packers front, things seemed destined for disaster in Green Bay, and on Kizer's second drive that happened in the form of a Mack pick-six on a screen.

Roy Robertson-Harris gets an almost unobstructed rush at Kizer, which was a bit surprising even on a screen. Mack recognizes the screen and drops back to get in front of the back, right into the passing lane to pick the ball off. He then shrugs off linemen and makes his way to the goal line for six to give Chicago a commanding 17-0 lead going into halftime.
It's early, but the Bears' defense seems like the real deal. They were a top 10 unit a year ago and adding Mack and Roquan Smith, their top draft choice who got a sack on his first play int he game, seems to have only made them an even faster and more dangerous bunch.