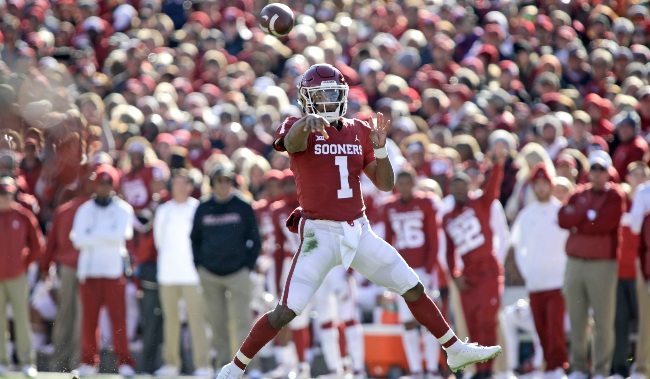 For the past couple of months there has been the growing expectation that Heisman Trophy winner Kyler Murray would consider continuing his football career into the NFL rather than committing fully to baseball as had been the original plan after being drafted ninth overall by the Oakland A's in the 2018 MLB Draft.
Between Murray's spectacular play and the NFL's steady offensive shift to fit a style of play that Murray excelled at while at Oklahoma, he quickly climbed draft boards and is now expected to be a first round pick if he were to enter the draft. Still, the $4.8 million deal he signed from the A's remained quite alluring and given his height there will undoubtedly be questions from teams about whether he can play quarterback in the NFL.
On Monday, Murray made things official, sort of, by declaring for the NFL Draft despite the A's and Major League Baseball's late push over the weekend to work out a new deal to keep him in Oakland.

While this means it's possible he chooses football, all this really means is he is wisely keeping options open. Murray and the A's will continue to talk over the coming month-plus as Oakland tries to lock him in on a major league deal, per reports, which would be a rather unprecedented move but show how much they want him to choose baseball. Monday was a deadline for Murray to declare, but what matters more is what he does in late February when the A's are in spring training and the NFL Draft Combine rolls around.
If he shows up in Indianapolis for the Combine, that would be an even greater indicator that he's going to go the football route, and he'll spend the next month and a half collecting as much information about where he's expected to go, and what money he can make, in the NFL Draft before he has to make that decision. Meanwhile, the A's will try to get him fully committed to baseball before camp so they can move forward with their young potential star.