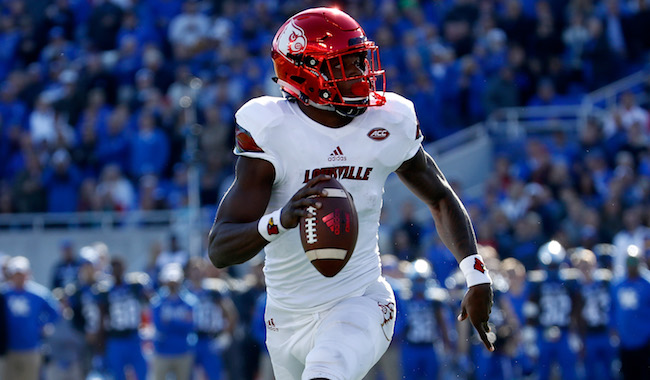 Lamar Jackson is very good at football, and that was on full display during his time at Louisville. If anything, the Heisman Trophy-winning quarterback may have been undervalued during his time at the college level as a result of defensive issues that kept Louisville out of the national spotlight, but in short, anyone who closely followed the sport over the past few years recognized just how dominant he was at a collegiate signal-caller.
With that said, there has been something of a bizarre groundswell concerning Jackson, who measured at more than 6'2 at the NFL Draft Combine, and a potential move to the wide receiver position. This seems to originate with media types doubting his proficiency as a pocket passer, and it came to a head on Friday in Indianapolis.
First, Peter Schrager of NFL Network reported that multiple teams asked Jackson to work out at wide receiver (in addition to quarterback) this week, and as you may expect, that became a significant story line. However, Jackson rather quickly denied that report and any buzz about a position change.
In addition, Jackson told the media that he "didn't even know where it comes from" and that he is "strictly a quarterback." That was supported by Kansas City Chiefs head coach Andy Reid and others, who view Jackson specifically as a multi-talented quarterback who deserves the opportunity to showcase his considerable ability at the position.
Jackson isn't without concern at the NFL level, much in the way of basically any quarterback coming from the college ranks to the professional level. Still, he has been forced to deal with a sideshow, of sorts, even after a college career that, aside from perhaps Baker Mayfield, was unrivaled by the reported candidates for top-tier selections in the upcoming class.