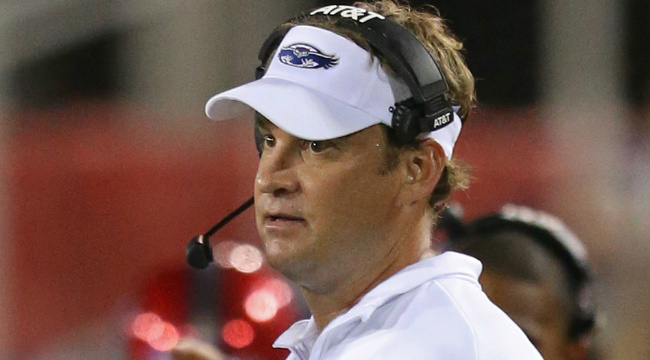 Lane Kiffin doesn't exactly have a sterling reputation. Three of the four places where he's been a head coach — the University of Tennessee, the Oakland Raiders, and the USC Trojans — have all ended with really messy breakups. It's part of the reasons why Kiffin is such a controversial figure in the sport.
But currently, Kiffin is on his fourth job, and things are going pretty swell. He's the head coach of the Florida Atlantic Owls, which won Conference USA during his first season at the helm. The team went 11-3 on the year and comfortably won the Cheribundi Tart Cherry Boca Raton Bowl over Akron. Plus Kiffin got a 10-year contract extension that the school hopes will keep him in town for a long time.
Of course, because he's Lane Kiffin, plenty of people are skeptical that he will actually stay in Boca Raton for the next decade. That's why this Twitter user decided to bust out a frequent joke on the web and offer money if he sticks around.

There are plenty of reasons to think that Kiffin will jump ship eventually. Beyond all of the negative things people say about him, he is actually a really good coach who recruits well and one boasts of the best offensive minds in the game. There is absolutely going to be a team from a major conference that is willing to fork over a ton of cash to acquire his services.
If that doesn't happen, though, Twitter user @OneTakeAtATime is going to be the one handing out a whole boatload of money.