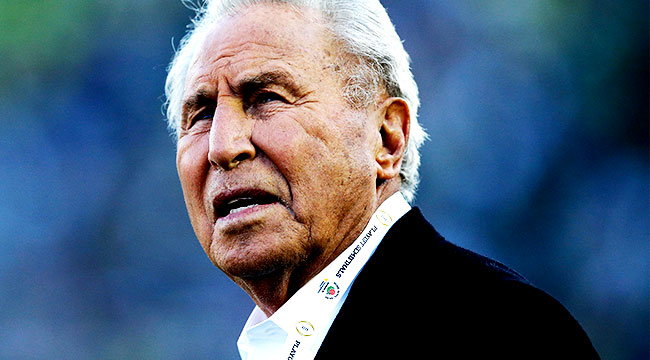 STATE COLLEGE, Penn. — The crowd in State College is raucous. It's the first time that College GameDay has been in Happy Valley for nearly a decade, and a collection of Penn Staters clad in white kicked off the broadcast with a pair of gameday traditions: The call-and-response "We are … Penn State!" chant, and some crowd surfing from the school's mascot, the Nittany Lion.
The thing that was unusual about this was the Lion had some company. Longtime College GameDay analyst Lee Corso, at the ripe young age of 82, thought it would be fun to be passed around like a collection plate among a crowd of cold, tired, definitely hungry, and potentially somewhat intoxicated college students who had been standing outside for hours, hoping that maybe they'd get the opportunity to appear on Saturday morning's most well-known tradition.
One of the major reasons College GameDay has gotten to that point is Corso. For 30 years, the former Louisville, Indiana, and Northern Illinois head coach has followed a simple mantra on how the show should be broadcast. It's something that third-year GameDay host Rece Davis claims Corso repeats almost every week, and according to Corso, he's been saying it since the very beginning of his time behind the desk.

"It's entertainment, sweetheart," Corso will repeat to his colleagues and just about anyone else who asks about his approach to television. "College football is the vehicle."
Corso believes that the content on the show can be as informative as possible. It can have tremendously in-depth film breakdowns — it does feature ESPN's top college football analyst, along with a handful of former players. It can have some of the best analytical minds in the sport telling you why various advanced stats say that people are underrating [insert the name of a program outside of the top-25 here].
But what Davis thinks makes GameDay a college football institution stems from Corso and his longtime approach to television.
"There is a big place in our show for analytical stuff and deep dive stats and Xs and Os and serious football talk," Davis says. "But we try to do it while continuing to maintain that touch with the fans, the stuff that they enjoy, the stuff that they find humorous or touching or surprising or whatever it might be. And Lee is the guy who keeps us on that track all the time and never lets us veer from that."

That's why the show features things like an octogenarian laying on his back and crowd surfing among a sea of college students, leading to him running back to the set so he can be there for the start of the broadcast. That's why Davis is in awe of the signature moment of the show: when Corso dons headgear to pick the winner of the week's biggest game.
"That moment at the end of the show when he puts on the headgear is iconic," Davis says. "It's rare on television that something on a television show, as much as we love our television show, has become a part of the sport. It's a tribute to him and his personality."
And the most amazing thing might be that Corso has zero interest in ever slowing down. The concept of being a college football fan that wakes up, parks himself on a couch, and flips from game to game over the course of an entire Saturday doesn't interest him at all. He doesn't even let the thought cross his mind; because for the rest of his life, Corso wants to entertain.
This is despite the fact that he's somewhat lost his fastball after a stroke in May of 2009. Corso had to re-learn how to speak—he recalled his doctor visiting him about a month into rehabilitation and telling him "you will never be the same, so you have to adjust."
So Corso has adjusted. He writes out a script on Wednesday and spends the next two days memorizing it. The quips and one-liners that made him so beloved don't pop up as frequently, but they're still part of the show, even if they require him deviating from his script and, as he says, "they come out a bit different." Additionally, there will be times where he's subbed out on the set, usually for David Pollack.

Still, the show has managed to keep its heart thanks to the man that Kirk Herbstreit lovingly refers to as the "dad of the show." And as is the case with any dad, his kids like to let him know how much they love him every now and then.
There are two examples which illustrate this. One was a video package from Corso's time at the United States Naval Academy as its defensive backs coach from 1966-68 — his final job before becoming a head coach — which aired prior to the 2015 Army-Navy game.
The other happened at the start of the 2017 college football season when the crew was in Bloomington and Corso got the chance to discuss Indiana's 1980 win over Kentucky in which his son, Steve, caught the game-winning touchdown.
Unbeknownst to him, a collection of his former players appeared behind him on the set while he was speaking.
In these moments, the always-impassioned Corso wears his heart on his sleeve a little more than usual. He'll tear up, his voice will crack, and he'll feel Herbstreit's hand on his shoulder, offering a moment of comfort as he fondly looks back on his time in the sport.
"I don't see how life goes by so fast," Corso says. "I look at the Navy and when I was in Indiana — those were years ago and I say 'Wow, life has just been like a blink.'"
An unfortunate reality is that even though he signed a new contract over the summer and plans on doing this forever, one day, College GameDay will not have one of its two familiar faces on the right of the desk anymore. Someone will step in and be given the unenviable task of replacing the show's heart and soul, the singular figure who has helped GameDay go from your run-of-the-mill pregame show to a major piece of the sport's identity.
It'll be a near-impossible task, but replacing Lee Corso will be a little easier as long as everyone at College GameDay remembers that at the end of the day, the show is entertainment, sweetheart.