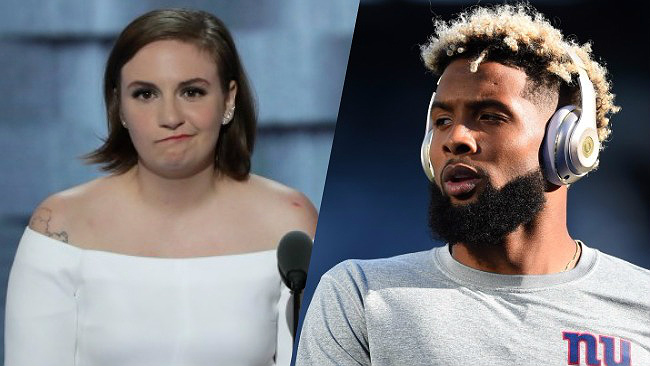 Including Girls creator Lena Dunham and New York Giants wide receiver Odell Beckham Jr. in the same sentence would normally require a considerable stretch, but not this time. Dunham, as part of an extensive interview with comedian and actress Amy Schumer, put Beckham Jr. on blast for, essentially, ignoring her at The Met Gala.
"You and I were literally sitting across from each other at the Met Ball, and it was so surreal to get to do that. I was sitting next to Odell Beckham Jr., and it was so amazing because it was like he looked at me and he determined I was not the shape of a woman by his standards. He was like, 'That's a marshmallow. That's a child. That's a dog.' It wasn't mean—he just seemed confused."
Dunham wasn't close to being done, going on to describe what she believed to be Beckham Jr.'s inner monologue with regard to sexual feelings toward the actress:
"The vibe was very much like, 'Do I want to fuck it? Is it wearing a…yep, it's wearing a tuxedo. I'm going to go back to my cell phone.' It was like we were forced to be together, and he literally was scrolling Instagram rather than have to look at a woman in a bow tie."
As you may expect, these comments have not played well on the internet, especially in an era in which Dunham is seen (at least by some) as a role model and forward-thinker. There were brilliant spoofs of this now infamous "exchange," but the takeaway seems to be that there are more questions than answers with what actually happened here.
At some point, Odell Beckham Jr. will likely be asked about this and any affiliation he has had with Dunham, but until then, this looks to be simply a bizarre and out-of-touch characterization of a prominent athlete.