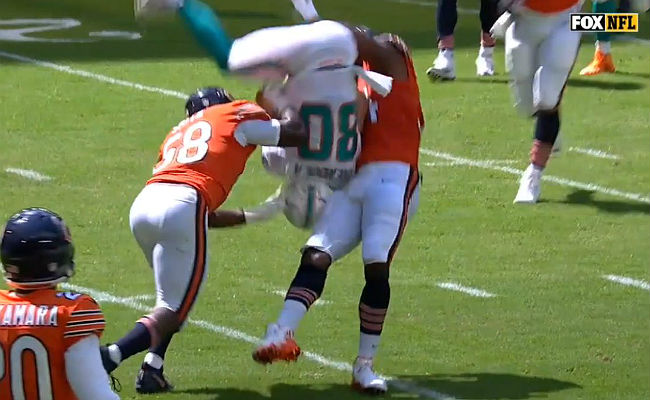 [record scratch] So you're probably wondering how Danny Amendola ended up looking like that, about to get suplexed by not one, but two members of the Chicago Bears. Well, for starters his quarterback today was Brock Osweiler, who somehow found himself at the helm as Ryan Tannehill's seventh consecutive breakout season was interrupted by a shoulder injury.
That left Osweiler and the Dolphins to face a Bears team that, well, clearly isn't messing around on defense. And early in the first quarter on a second and 7, Osweiler thew a ball to Amendola over the middle and ran right into Leonard Floyd, who decided that tackling the slot receiver simply wasn't enough.
Simply put, Floyd tried to suplex Amendola all the way to hell, picking him up and then throwing him down to the turf with a little help from another Bears defender.
https://twitter.com/FanSportsClips/status/1051523724648710144
The play drew a flag for a personal foul, which, yeah that's not really a thing you see in football all that often. Thankfully, Amendola seemed to be OK. And Floyd has the first few seconds of his NXT audition reel already on tape.
The personal foul penalty also led to an Osweiler touchdown pass to Nick O'Leary, which seems more unlikely than getting suplexed in the middle of an NFL game.