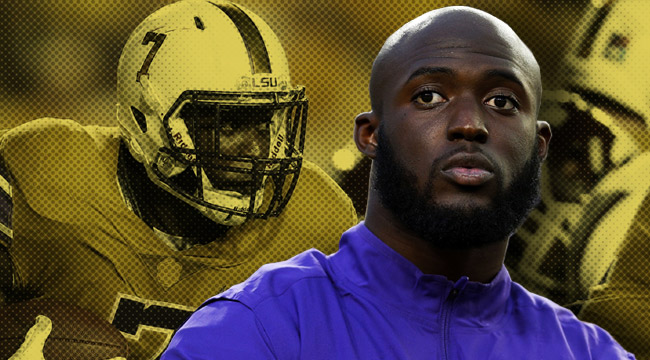 The recent crop of running backs to enter the NFL have revitalized a position that many felt was being pushed to the margins. As teams spread out and passed more, the days of a workhorse running back seemed to be in the past, with many teams turning to committees of specialized backs for different situations. However, with the successes of young backs like Todd Gurley and Ezekiel Elliott, each top 10 picks from 2015 and 2016 respectively, along with Le'Veon Bell and others putting up staggering numbers, the running back position is seeing a resurgence.
The 2017 NFL Draft features a number of backs that seem poised to only further strengthen the depth of the position across the league. Dalvin Cook, Christian McCaffery, and Joe Mixon are all exceptionally talented backs with first round talent, but the best known of all of the backs in this draft is former LSU star Leonard Fournette.
Fournette has been a known commodity since high school. He was seemingly NFL ready fresh out of St. Augustine High School in New Orleans, but NFL rules dictated that he spend three years in college before he could take his talents to the pros. After a strong freshman season with over 1,000 yards and 10 touchdowns, Fournette exploded for nearly 2,000 yards and 22 touchdowns as a sophomore. Nothing else needed to be proven, but he had one more year to spend with the Tigers.
Throughout his junior season, Fournette battled an ankle injury that limited him to seven appearances, 843 yards and eight touchdowns. He still managed to have some incredible moments, like the Ole Miss game when he ran wild on the Rebels for 284 yards and three touchdowns, but the ankle injury persisted and he eventually had to shut it down for the final game and bowl game.
Now, Fournette is finally ready to fulfill the prophecy foretold in his high school days. The prodigy is now a near-finished product and will finally earn well-deserved compensation for his efforts on the gridiron. On Monday afternoon, three days before the first round began in Philadelphia, Fournette spoke with UPROXX Sports about his draft preparation, learning to embrace protein bars, his rocky last season at LSU, the differences in Les Miles and Ed Orgeron, the resurgence of the running back position, and what we can expect from his draft night fashion choices.


What has the draft prep process been like for you and are you happy that it will soon be back to a more familiar routine of getting ready for an actual football season, not the combine and team workouts?
Most definitely. The draft process has been long, visiting all of the teams and doing interviews. Showing them what you are besides a football player. Showing them your intelligence and stuff. It's been fun. Traveling and seeing all of these NFL places that you see on TV but you've never been to. Seeing all of the players who's doing their workouts and stuff. Overall, it's been a fun experience, but I'm ready to get back on that football field, doing what I love to do best, which is playing football and just getting better.
You were listed 235 at LSU last year and weighed in at 240 at the Combine. Was getting a little bigger something you wanted to do going into the league and what was a typical day as far as working out and your nutrition plan during the past few months of draft prep?
It wasn't planned out. You know, drinking a lot of water, it put a lot of water weight on me and I think I looked and felt good at that weight. I guess for me it didn't matter what weight I was at. I felt good at it. I went out there, ran my 40, but I could say if I was probably 235 or 230 I would've run faster than the 4.51.
When you go through preseason camp and all the workouts, do you see that the weight comes off more there and so you want to come in maybe a bit bigger than your typical playing weight?
Yeah, most definitely during camp with all the moving and running around. That's always what happened to me when I was at LSU, going into the camp and stuff with all the practice and running, the weight dropping off me. It'll be water weight and whatever it may be, but I feel great.
You've been working with MET-Rx, what's that partnership been like for you going through this draft process and how's it helped with your nutrition plan and workouts?
Working with MET-Rx has been good. Especially for me taking my level of working out and competing to the highest level. It's been exciting to be with those guys, especially with my pre and post-workout, the fueling of my training, especially the Big 100 protein bars. I'm a big fan of those. They're delicious. They're healthy. During one of my workouts I might — a lot of guys will drink a smoothie or eat a banana — but I like that chocolate bar. It's great for every player if you ask me. Cause I'm not a big fan of trying things. I've never been a protein guy in college. I never drank Muscle Milk or any of that, but MET-Rx is definitely where it's at for any athlete.

What have been the focal points of your draft prep on the field and have there been certain things or skills you've wanted to make sure teams see from you in workouts?
Yeah, in my combine I wanted to get out in the open and into open space and show them my quickness. You know, a lot of people think I'm big and stiff, so showing them I can catch the ball. Just doing things that people out there don't expect from me.
Has there been anything that teams have asked you specifically to show them or indicated during visits that they'd like to see you work on to improve?
Not really, the only thing they wanted to see me work on was my blocking. They all told me that that's going to come with time, the blocking part, but other than that, that's it.
Last season at LSU had to have been tough with the ankle injury. First, how is the ankle doing now?
My ankle's 100 percent now. I knew the whole time it was a time-consuming thing, but I didn't want to wait. I wanted to get out there and play with my brothers at LSU. I never been that type of guy to quit on anyone. At the end of the day, I knew what was at stake, but our team comes first and I just played with it.
Have you felt any added motivation during this process and going forward to your first year in the league to quiet anyone questioning you after a season in which you had some games like the Ole Miss game like the guy we'd all come to know, but there were other games where you simply couldn't?
Most definitely. I'm not going to say anybody specifically, but just this entire season that just passed, I couldn't perform at my best. So of course I'm going to come into the NFL with a lot on my shoulders and my back to carry.
When you look back on your LSU career, what's your favorite moment or favorite game?
Not a favorite game, I just loved my career at LSU. It was a fun experience for me. Those three years, man, they went by so fast. And just overall I've gotten better as a player thanks to my coaches and my relationships with those guys — Jamal Adams, Duke Riley — that's my brothers I can call them that forever. So, I mean, overall my relationships and all the tasks I went through at LSU.


I have to ask, how different were the inspirational speeches going from Coach Miles and Coach O?
[Laughs] I mean, in the game moment Coach Miles was always calm with it — he was always cool, calm, collected. Coach O, man, you can feed off his energy. I love Coach O. He's a player's coach. He's with you right or wrong, whatever mistake you make, he says just move on to the next play. That's just who he is and it makes everybody want to play better.
Do you feel like we're seeing a resurgence of the running back position, with guys like yourself, Dalvin and others this year and what Zeke did as a rookie last year? Is it exciting coming into the league with the running back position so strong?
Yeah, I think Todd Gurley, Ezekiel Elliott, and those guys did a great job representing the running backs, and also doing a great job in their first year, balling the way they did, they kind of help us out. If it wasn't for those guys that went first round two years before us or the year before us, I mean, they wouldn't look at running backs as high as they do now. So without those guys, I don't know where we'd be at as running backs.
Is there something to, as teams continue to spread things out and defenses have had to adapt to that, with some teams using nickel packages as base looks, that it has that created an advantage for downhill, powerful backs having more smaller guys on the field?
I'm not going to say it's us. I think it's the line. You know, the running backs don't just make the holes on their own. It's a team effort. It's not just on the running backs, you know, one guy can't beat 11 guys. To me, I think it's the team you're on. Players who are committed to you and blocking for you, and it's on all of y'all to get it done.
Finally, do you have your draft suit already picked out, or are you still weighing your options?
I'm still weighing the options.
Are you going to be one of the guys in something flashy or you keeping it more low-key?
Nah, low-key. Not flashy. I'm not really a flash guy. I only flash with my shoes.