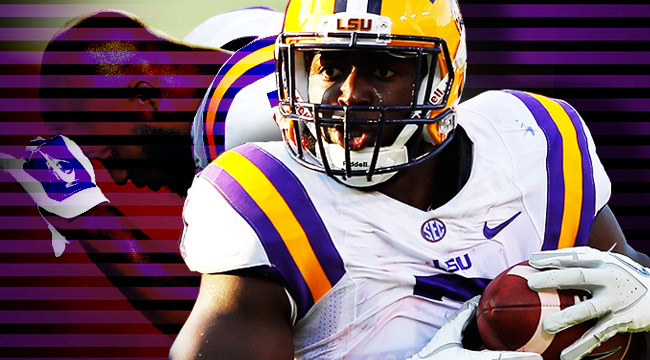 There's always been a mythical quality to Leonard Fournette, a Paul Bunyan-like presence that preceded his arrival on the national stage and has never quite lifted. Statistics be damned: As a physical specimen, he's been touted as a legend from the start, a chiseled size/speed idol in the mold of Herschel Walker, Bo Jackson, and Adrian Peterson. Hell, maybe even Tecmo Bo; after three years on campus, Fournette still cuts the figure of a living, breathing Create-a-Player, ratings maxed. In a sport of born-and-bred freaks, he's the freakiest.
And in that sense, at least — the intuitive, visceral sense — he's also reigned as the best player in college football over the last two seasons even when the objective body of evidence doesn't back up the claim. In 2015, it did: Fournette destroyed the single-season LSU rushing record, led the nation in yards per game, and averaged nearly a full yard more per carry than the Heisman winner, Derrick Henry, all as a true sophomore. This year, not so much: Almost two-thirds of the way through his junior campaign, Fournette is barely a third of the way to last year's output on the ground, his production diminished by a combination of a) a depressingly one-dimensional attack that offered no support over the first month of the season, and b) a nagging ankle injury that has sidelined him for three of LSU's first seven games. On paper, he's only narrowly his team's leading rusher.
Still, statistics be damned: In the home stretch of his college career, Fournette's Herculean rep remains alive and well, reaffirmed by arguably his most awe-inspiring performance yet in the Tigers' last game, a 38-21 romp over Ole Miss. True, in this case the box score happened to make for a convincing shorthand all by itself; Fournette finished with a career-high for rushing yards (284, also an LSU record) on just 16 carries, the majority of it coming on a hat trick of touchdown runs that covered, respectively, 59, 76, and 78 yards (Prior to eviscerating the Rebels his longest gain this season had covered just 35 yards, although he did eclipse the century mark in each of the first three games he played.) But that was just the accounting. In the moment, what mattered wasn't the exact distance but the sheer spectacle of it, of Fournette — still, incredibly, not quite at 100 percent off his month-long absence from the lineup — putting on what felt like a vintage exhibition of vision, velocity, and wanton violence.
In a few years, or even a few weeks, when they hand out the Heisman, who's going to remember a box score? No, the first result that comes up when you perform a mental search for "Leonard Fournette," now and for a very long time to come, is one of the ever-library of moments that made you say oh my god.
Of course, one game back from injury, no matter how dominant, wasn't nearly enough to elevate back into the Heisman chase. Yet it speaks volumes to college football's collective fascination with Fournette that of all the potential stakes in this weekend's collision between LSU and Alabama — first place in the SEC West, survival in the playoff chase, Ed Orgeron's viability as a full-time head coach — that in the two-week buildup to the game it's precisely Fournette's status as an outsize, once-in-a-generation presence in the sport that has emerged as the dominant theme. Because the one time that that assumption hasn't held true, when Fournette has looked all too human, was in last year's 30-16 debacle in Tuscaloosa, a dismal night that defined his season as thoroughly as any of the superlatives, and guaranteed that Saturday night's rematch in Baton Rouge would serve as a defining showdown, too. After all, for all his other gifts, how super can Superman be if he loses his final battle with kryptonite?
It helps that this kind of narrative can always count on the Crimson Tide to hold up their end as a compelling villains. (They're used to it: For the rest of the SEC, the Saban Death Star tends to be cast in the role of Final Boss on a weekly basis.) The 2015 edition of Irresistible Force vs. Immovable Object was a bust, an anticlimactic beatdown that tipped the Heisman pendulum permanently in Henry's favor as Alabama surged toward a playoff bid and LSU entered a three-game tailspin. Although Fournette ultimately recovered to post superior numbers for the season on a per-game and per-carry basis, his campaign never did. He finished sixth in the final tally with only 10 first-place votes out of more than 800 ballots.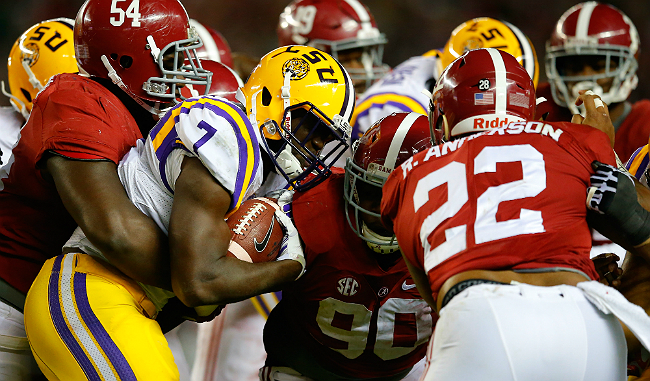 It won't be lost on anyone that the hurdle facing Fournette this weekend is a microcosm of the one facing his team. To some extent, all of the upheaval at LSU over the past year stems from its inferiority complex relative to the ongoing dynasty constructed by its former coach. Since prevailing in the infamous 9-6 game in 2011, the Tigers have lost five straight against Alabama, beginning with the 21-0 flop later that season in the BCS title game. More than any other factor, that streak cost Les Miles his job, and will most likely cost Orgeron any chance he has of removing the "interim" label if it continues. From the outside, Bama seems to loom even larger as a psychological hurdle at this point than it does a physical one, which is saying a lot.
As a result of that upheaval, though, LSU actually looks like a much more serious threat than it would have if it had stood pat following a 2-2 start. Even before Fournette's triumph return against Ole Miss, the offense had begun to make significant strides in Miles' absence: There's more stability at quarterback, in the form of Purdue transfer Danny Etling, and big-play complements to Fournette at running back (Darreus Guice) and wide receiver (Malachi Dupre, D.J. Chark). In all three games under Orgeron, minor tweaks have led to massive gains on the scoreboard, fueling LSU's climb back to respectability in the latest polls. And if nothing else, the Alabama/LSU rivalry has been extremely competitive in Baton Rouge, where the Tigers won at home in 2010 and held leads in the final minute of regulation in both 2012 and 2014 before losing in dramatic fashion.
There's an argument to be made that LSU as a team, and Fournette specifically, have finally rounded into the championship-caliber outfit many of us expected in August, just in time to make it count in November. Beyond Alabama, the rest of the schedule down the stretch (featuring Florida, Arkansas, and Texas A&M) offers plenty of opportunities for the Tigers to continue to rise as their September lapses against Wisconsin and Auburn fade further into the background. A relatively wide-open field gives Fournette a chance to mount a late Heisman surge that wouldn't have seemed possible two weeks ago, when the rest of his season hung in a Clowney-esque limbo.
All of their larger goals remain at least plausibly intact, especially Fournette's standing as one of the transcendent college players of his era.
But none of them are possible unless they put their most bitter bête noire to bed.