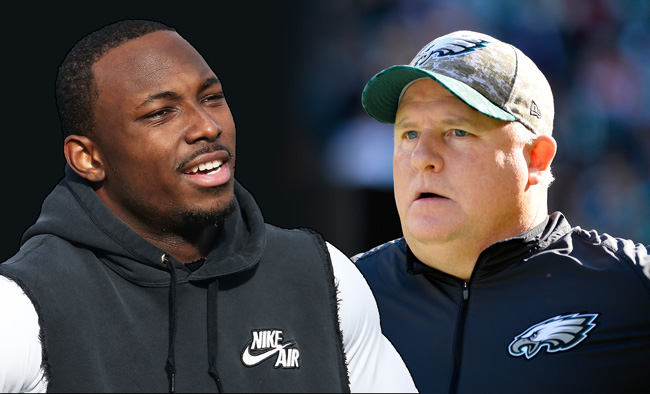 It seems strange that in a sport whose coaches, owners and players all routinely say is nothing more than a business that there could be such an urge on behalf of one coach to make amends with the running back he sent packing last offseason. But such is the effort of Chip Kelly, the Philadelphia Eagles coach who traded LeSean McCoy over the summer, in his efforts to make clear the air between him and McCoy.
McCoy, if you don't recall, felt the trade was based on more than his on-field play, and as such has refused to apologize for any statements to that effect or make amends with Chip. Which should be fine! They're two professionals in a business that sees players cut or traded every week, but for some reason the NFL media has really felt the need to dig their trenches on this story this week.
Today's version is that according to Jeff McLane of the Philadelphia Inquirer, Chip tried to call LeSean this week to end this saga and the current Bills running back hung up on him once he realized who had called. Which, honestly, sounds like a perfectly normal response to receiving a call from your former boss who more or less fired you, no?
But to the NFL media, this is a feud, a battle of wills between two strong personalities whose lives have changed greatly since their last interaction. Chip brought in the underwhelming DeMarco Murray, and McCoy…well, Shady had to move to Buffalo. Nobody's come out of this happy.
The Eagles and Bills are two mediocre teams who, despite their mediocre records, are still in the running for playoff spots thanks to a weak NFC east for the Eagles and a weak AFC for the Bills. This is a big game already! You don't need to make it any bigger by dragging up old slights, but that's how the NFL stays in the news on off days. Just let them play and get back to the business of football, like everyone always says it is.