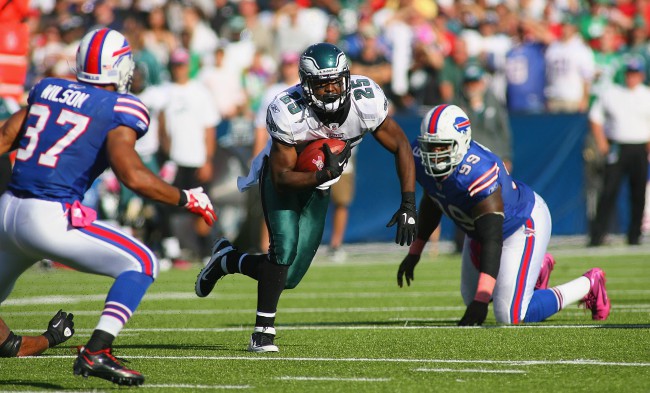 Injuries are a common part of training camp, but the Buffalo Bills can ill afford to lose another running back, especially when that back is LeSean McCoy. According to Mike Rodak of ESPN.com, McCoy sustained a left leg injury in practice and was taken to the locker room:
The leg injury was later confirmed to be a hamstring injury. Per Rodak's report "Bills coach Rex Ryan said McCoy's hamstring is intact and that no separation from the bone occurred. McCoy is scheduled to undergo an MRI." The severity of the injury isn't known, however.
As Gregg Rosenthal of NFL.com points out, the Bills were already pretty thin at running back even before McCoy's injury:
Veteran Fred Jackson has been out for nearly all of training camp with a hamstring injury. Rookie Karlos Williams, seen as a serious challenger for the No. 2 running back job, is expected to be out for multiple weeks after a "procedure" that Ryan dubbed "sensitive." Reserves Boobie Dixon (calf) and Bryce Brown (hamstring) are also currently injured, meaning that Bronson Hill and Ricky Seale are the only two healthy running backs.
Some of Buffalo's ball carriers will be back soon, but major implications rest on McCoy's status. The former Philadelphia Eagle was at the center of one of the bigger offseason trades, and given the quarterback concerns the organization has heading into the 2015 season, McCoy's importance cannot be overstated.
(Via Mike Rodak)