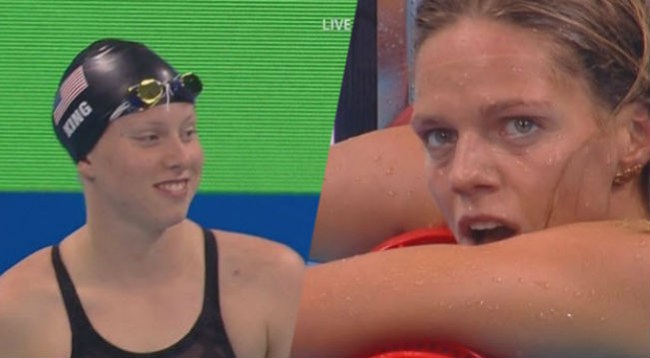 If you missed the news the other day, there was a huge race scheduled for Monday night in the pool at the Rio Olympics. It was the women's 100 meter breaststroke between America's Lilly King and Russia's Yulia Efimova. Not only was it intriguing because the two are outstanding breaststrokers, but it made headlines because Efimova had been busted for using performance-enhancing drugs in the past and, after she earned a spot in the finals, King used her platform on NBC to call Efimova out.
So leading up to the race for the gold medal in the event on Monday night, all anyone wanted to talk about was King vs. Efimova. And once the race ended, the American come out on top. It was an intense matchup and the two were close for all 100 meters, but in the end, King – who is a student-athlete at Indiana University so, uh, good luck, Big Ten swimmers! – took down her newfound rival. King swam the race in 1:04.93, which is a new Olympic record, while Efimova registered a 1:05.50.
It was a huge win for a bunch of people: King, the USA swimming team, everyone who hates performance-enhancing drugs, and of course, the internet. Immediately after King won, people on Twitter went wild, celebrating because the 2016 Olympics produced a new American hero. As you can guess, there were Rocky IV jokes. Lots of them.
Oh, and guess what? King couldn't help but take one more shot at Efimova after the race.
Swimming is one of those sports that shows up every four years and produces a few new stars at the Olympics. Congrats, Lilly King. You're the latest person to become an American hero for your performance in and out of the water.