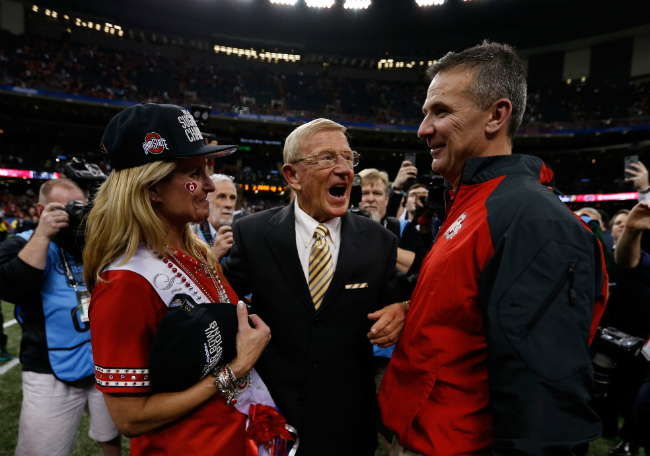 After almost 60 years around college football (excluding that brief stint with the Jets), Lou Holtz finally decided to take some time off. And for good reason. He and ESPN agreed to mutually part ways after the 2014 season, and his house was struck by lightning in June. The former William & Mary, Arkansas, Minnesota, Notre Dame and South Carolina head coach decided to spend more time with his family, watch his son coach, and golf.
But no football lifer can leave football entirely. Holtz is still doing a bunch of radio, and he's promoting an initiative with Kingsford Charcoal to try and get people to stop arguing so much about conference rivalries and eat more food together and be friends again, which is so #goacc my heart is melting even as I type this.
With opening weekend of college football upon us, Uproxx Sports had the chance to speak with Dr. Lou about optimism, his picks for the Heisman and the College Football Playoff, what it was like working with Rece Davis and Mark May for so long at ESPN, and more.
Martin Rickman: It seems like the offseason just started, and here we are and there's actual, meaningful football being played. Can you believe the season's here?
Lou Holtz: The years slip by. It seems like only yesterday we were at the Oregon-Ohio State championship game. It's unbelievable how fast it goes. But, of course, when your house burns down, that has a tendency to have it go a little bit faster.
It's funny you mention that first because something you had said after that really resonated with me. I read a quote that said, "Whenever we had a down, we did two things. We gave ourselves 'X' amount of time to feel bad for ourselves, and then we moved forward."
That's really true.
When did you start embracing that mentality? Did anyone instill that mindset in you?
It was when I was coaching. If we had a disappointing loss, a bad call, a bad vote, we'd say, "Okay, we feel sorry for ourselves, but at 8 o'clock tomorrow morning, that sucker's over. We ain't going to ever mention it again. We're going to move forward." We did the same thing with the house. It burned down. It was devastating, and we gave ourselves two days to worry about it. From that point on, we just looked forward. That's just sort of been my approach. Remember this: Nothing's as good as it seems, and nothing's as bad as it seems. Somewhere in between there, reality falls.
Your optimism seems infectious. Do you have advice to give to someone who maybe isn't as optimistic as you about life, but wants to be?
Pessimism is nothing more than an optimist with experience. [Laughs.] But basically, what happens to you isn't near as important as how you react to it. I've never had anything happen in my entire life that didn't in the long run turn out to be a plus. I can give you a thousand examples. My wife and I were going to get married, and I was going to coach high school. Instead, I went to Iowa as a graduate assistant. On July 9, she told me she didn't want to get married. She wanted to date her old boyfriend. We had a love-hate relationship. I loved her. She hated me. I went to Iowa and got the graduate assistantship, and we ended up second in the country. That's how I ended up in college coaching. If not for that, I'd still have been in high school. Eventually, we got together, and we've been married 54 years. Now the house burns down, and we're going to make it bigger and better. I just think it's how you react to it.
I talk to my son, I talk to Charlie Strong and them all the time. I say, "You're going to have three crises on the football team this year. I don't know when they're going to happen, but they're going to be three different crises. Maybe an injury, maybe a scandal, I don't know." You better be prepared for it. When we did have a crisis, I'd go to the team and I'd say, "Hey, men. I've got great news for you. We only have two more crises to go after the one that happened today." That's how you approach it. You have two choices: You can either be negative, or you're going to be positive. I'm not talking about being a pollyanna and whistling in the dark and everything. But I think you can look at anything that's happened in your life, and you can turn it into a positive.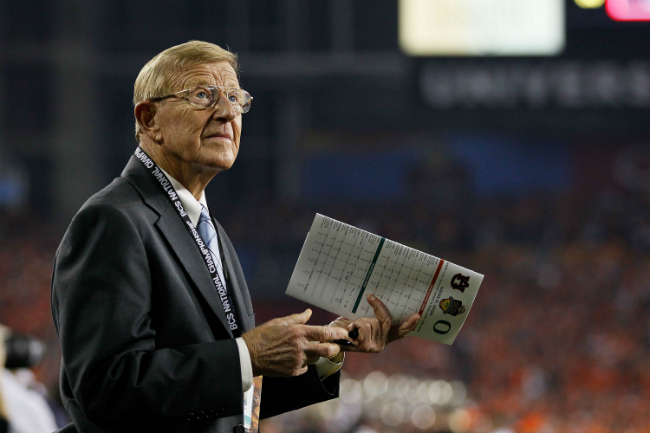 What has changed most about your perspective on college football as you've gotten older?
I think that number one, when you talk about football today on offense or defense, I've seen the complete cycle. I started out running the Single Wing. Then you went to the Split-T with Bud Wilkinson. Then you went to the Power I at Southern Cal. Then the Triple Option with Darrell Royal down in Texas. Then you went to the Veer with Bill Yeoman. And the West Coast offense. And here we are back again in the single wing with the quarterback. Yeah, people are more spread out and they throw the ball a little bit more. Athletes are bigger, faster and stronger, but they're also playing against bigger, faster and stronger people. The game has not changed. You still execute. You still block. You still tackle.
The biggest change is the internet. Anybody can put anybody on there. It means absolutely nothing. You don't have to sign your accurate name. Because it's on there, somebody will say, "Boy, I believe that." I think that's what really makes it difficult for coaching today.
The other thing is when I went to Notre Dame, we had a policy that the football coach couldn't make more than the president, and the president was appreciative of that. They paid me $95,000 and I paid them $75,000 because I had three children at Notre Dame, and free tuition didn't kick in until you'd been there five years. Now they're paying people $5 million in order to fire them. One guy [Charlie Weis] got a $19 million settlement from Notre Dame. As I said, you're going to pay that.
I just see salaries going up, and I see athletes getting paid to play. I'm vehemently opposed to that. I think that the BEOG gives them money to travel, etc. They get an opportunity to play college football, but, more importantly, they're there to get an education. When they leave college, they don't have a $50,000 loan like the average student does. They get a chance to learn life lessons that'll be invaluable too. Don't tell me they don't have any money. Good lord knows, I was born in the depression. I was in college and I had no money. People would say, "You need a haircut." I would say, "I don't need a haircut." They'd say, "Go look in the mirror." I'd say, "I don't look in the mirror. I look in my wallet. I do not need a haircut." You have to buy what you can afford, not what you want. You can mark me down as undecided.
How are you planning on spending this season? Do you have a setup in place? Are you going to any games?
Oh, yeah. I have to go to the Georgia Tech-Notre Dame game because there's a club called Lou's Lads. Everybody who played for me for 11 years comes back. They've given over a half a million dollars in scholarships, and they look out for one another and reminisce about the philosophy and etc. I'll go to the Southern Cal game because they're honoring Jerome Bettis and Tim Brown for going to the Hall of Fame and they've asked me to come back for that. I'll go to some of Skip's games [at Louisiana Tech]. But I do radio now because I can do it from home. I don't have to go through security or get on an airplane. I don't have to be away from my wife. I'm very close to a golf course. I'm just trying to keep my mind active. Physically, I've slowed down a great deal because of back surgery and neck surgery. But mentally, I'm as sharp as I was at 40. Now, that's not saying a whole lot, and I understand that, but I have not lost anything mentally.
Who do you think has the best shot at the Heisman right now?
If you look at it, everybody is talking about Ezekiel Elliott from Ohio State and Nick Chubb from Georgia. Trevone Boykin, the quarterback, at TCU might be the leader. I think you have to look at J.T. Barrett. Until he was injured last year, if you looked at his stats, they were Heisman-winning award stats. They compared him with other people who won the Heisman and it was incredible what he had done there. Somebody will always come out who you're unaware of. I can't honestly say who it would be. Who know what [Vernon] Adams is going to do; the quarterback at Oregon. They say he played at Eastern Washington and is going to start at Oregon, but he played against two Pac-12 teams and averaged 500 yards a game passing. Maybe he'll end up being in the Heisman race. Cody Kessler, the quarterback at Southern Cal who's had such a tremendous career and had a great year last year. You go on and on, but those six, if you were balloting now, they'd be on the ballot.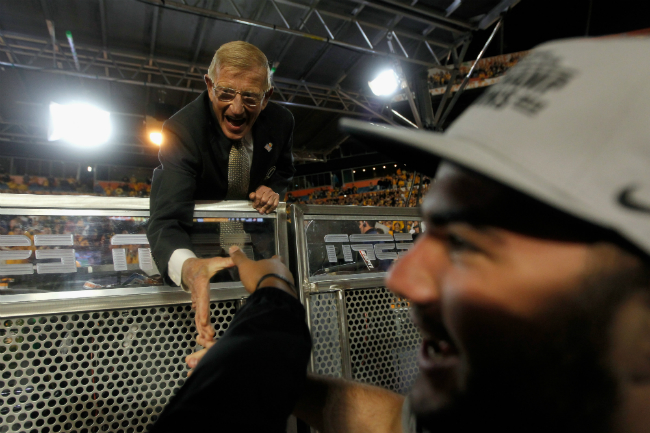 Do you have a favorite broadcasting moment from your time on College Football Final?
I thought I really got the shaft from Rece Davis. He's one of the great people and one of the most talented people in the world, but he rode against me twice on Ohio State when I said Ohio State was still in the race, and they'd end up being one of the final four in the "Final Verdict." We did it for 10 years. All three of us did the same shows. It was fun. We did different things that were innovative. The "Final Verdict" was always interesting. They even had a show on ESPNU that was an hour show that would take the verdict we had or the subject we had and discuss it in greater length.
I just think being with those people. I love Mark May, but we had a difference of opinion. He's a great person. He sent me a nice text last night. He was a player, I was a coach. He made suggestions, I made decisions. He showered after work, I showered before work. He signed a paycheck on the back, I signed it on the front. It was just a difference.
But if you ask me the most embarrassing thing, we were on TV, and Mark May asked me about my golf game. I said, "Mark, I want you to know I'm the best golfer in Lake Nona, and I mean that. I'm not joking." At Lake Nona, we have all sorts of touring pros. Ian Poulter, Justin Rose, Graeme McDowell, Henrik Stenson. I mean, everybody at that club was all over me. "You're a lousy golfer. You lied on TV!" And I told them 300 members called me a liar, but 300 million people think I'm a hell of a golfer. I figured, pretty good odds. I think Rece and Mark felt the same way. If we're going to do something, let's have fun with what we're doing. That we did do. We enjoyed each other's company and we had fun doing it. Rece Davis is the absolute best at it, bar none.
It's great you mention Rece, with him getting that new stage at College GameDay. I've spent some time with him, and there aren't that many people nicer or better to everyone around them than Rece. How do you think he's going to do?
I think he'll improve it tremendously. You're right. As a husband, as a father, as a friend, he's one of the most caring, kindest people. He's also one of the most talented. His memory is incredible. I worry now about radio because I would always mispronounce people's name, and he'd say, "You mean John, not Jack." Not only that, but we had no script, no teleprompter, no rehearsal, and the only thing they'd do is give us a highlight and tell us who scored or something. Rece could tell you if that was wrong, and he'd make corrections on his own. He could tell you – and we watched all the football games – but he knew the name and number of every player on every team that appeared on TV by heart.
He's an encyclopedia, and to have a guy like that to direct the conversation or steer you back to where you need to be, it takes a lot of talent.
What I'll really miss most about him is I'd bring my iPad, and he'd set it up. He'd tell me where to press. I'm not that intelligent about electronic things, so I'll miss that.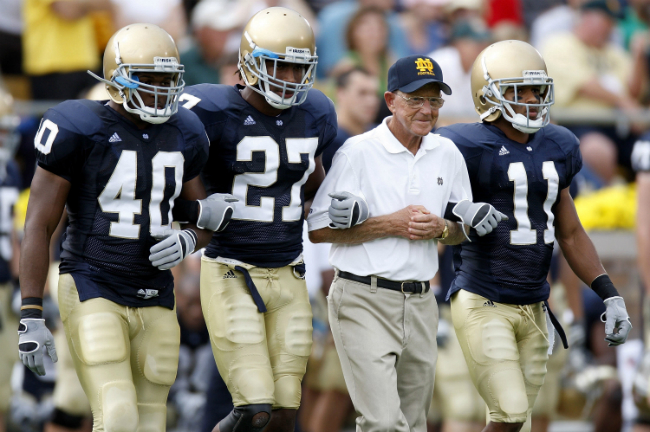 If the playoff were to start next weekend, which four teams do you think would be the ones with the best shot at it on paper?
You have to look at Ohio State, but I do not believe Ohio State will go undefeated. They will lose a game somewhere, and it very well might be against Michigan in Ann Arbor. Let's remember in '68, that great sophomore team had won so many games and went up there and lost to Bo Schembechler in his first year there. I think the same scenario is very similar here. But you have to put Ohio State in there. You have to put somebody in the SEC. It might be Auburn, but it depends on how well Will Muschamp does with the defense and how much Jeremy Johnson produces as much as everybody says he will. You have to put somebody in there from the Big 12. I don't think you can turn your back on Baylor or TCU, even if they only have one loss. If they have one loss, one of those two will get in.
You have to look at Notre Dame, and here's why. Notre Dame plays eight teams that are ranked 80 or lower. Temple, Massachusetts, Virginia, etc. They play three tough games at home. Texas is a year away, but they have Georgia Tech at home and Southern Cal at home. Clemson is on the road, but they've had an awful lot of injuries, defections, people leaving, and they've lost so much on their defense. Deshaun Watson is a great quarterback, but, defensively, I don't think they can stop Notre Dame with Malik Zaire. Here's the other thing: Notre Dame lost more assistant coaches than they lost starters. They have 10 starters back on defense and nine on offense. Everybody's high on Malik Zaire. If you look at the preseason publications, they'd list the top 10 position groups. Notre Dame is the only school listed in every single category with the exception of quarterback, and that's because Zaire hadn't played enough. You have to take a big, strong look at Notre Dame because of the athletes and the schedule they have.